Taxpayers have had to shell out millions on compensating NHS Scotland patients who have suffered from botched treatments, including the removal of a testicle without consent, gluing a patient's eye shut and failing to review the heart scan of a patient experiencing a heart attack.
Responses to Freedom of Information requests show that over the past four years, 13 of Scotland's 14 health boards have collectively paid out more than £160 million in compensation.
The overall figure is likely much higher, however, as NHS Greater Glasgow and Clyde – Scotland's largest health board – refused to provide the data. NHS Borders and NHS Grampian also failed to provide data for 2022 on the basis they had not yet finished processing claims for that year.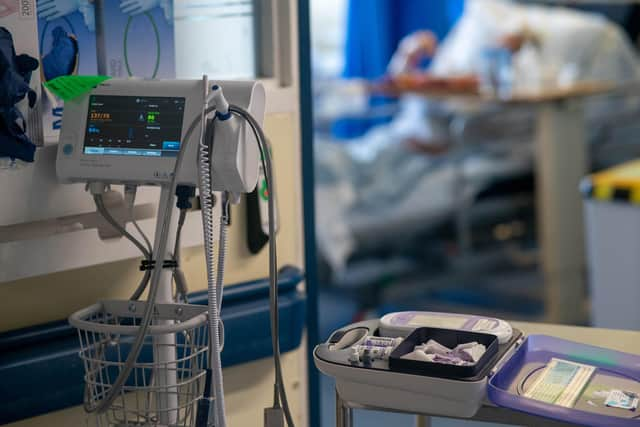 In the remaining health boards, 475 successful claims led to £163,137,578 being paid out in compensation between 2018 and last year.
The figures also show the value of claims skyrocketing in the space of three years, from £24,483,684 in 2018 to £54,940,898 in 2021.
NHS Lanarkshire provided some of the reasons compensation was paid out to patients.
These include a patient who had a cardiac arrest and died after failure to review an ECG; failure to obtain consent for the removal of a testicle; and failure to diagnose schizophrenia in a patient who then took their own life. Other claim reasons cited by the health board were gluing a patient's eye shut; removing an ovary without consent; failing to detain a patient under the Mental Health Act who then took their own life; and failing to properly examine a baby, leading to an imperforate anus going unnoticed and resulting in death.
Paul Cannon, board secretary of NHS Lanarkshire, said the health board "makes payments where the standard of care has fallen below that which would be expected, which is not necessarily an error".
"Offers to settle claims are often made before cases are tested in court, where it appears that we may be at fault, or where we accept limited liability," he said. "Offers are also made on an economic basis if the cost of defending the claim is grossly outweighed by the cost of settling the claim."
NHS Lothian, Scotland's second largest health board, spent the most on compensation of the health boards that responded fully, paying almost £43m.
Dr Tracey Gillies, medical director at NHS Lothian, said: "Our teams work to ensure the highest standards of safety and treatment for the nearly 900,000-strong population of NHS Lothian and we also provide national and regional services for other parts of Scotland. It is the second largest health board in Scotland.
"If cases arise where treatment does not meet our high standards, we carry out a full review. Cases involving litigation can be very complex and may be settled some time after they are first raised."
The Scottish Conservative's shadow health secretary Dr Sandesh Gulhane branded the figures "a damning indictment of the SNP's dire workforce planning", saying it had left dedicated NHS staff dangerously overstretched.
"My heart goes out to the patients and families who have suffered as a result of failings in Scotland's NHS," he said. "But the buck for this stops with a succession of SNP health secretaries, including Humza Yousaf. These figures are a damning indictment of the SNP's dire workforce planning, which has left our health service woefully under-resourced.
"Dedicated staff are dangerously overstretched and, tragically, but inevitably, this is leading to more mistakes and a growing number of compensation claims.
"At a time when budgets are so tight, the NHS can ill afford to be spending vast sums on compensation. It goes without saying that this money could be far better spent on frontline patient care.
"These compensation claims make it clear that our NHS is buckling under SNP mismanagement and that Humza Yousaf's flimsy recovery plans have failed to remobilise it.
"In contrast, the Scottish Conservatives have produced a real recovery plan to ease the pressure on doctors and nurses so that they can give patients the best possible care."
The Scottish Government has been contacted for comment.