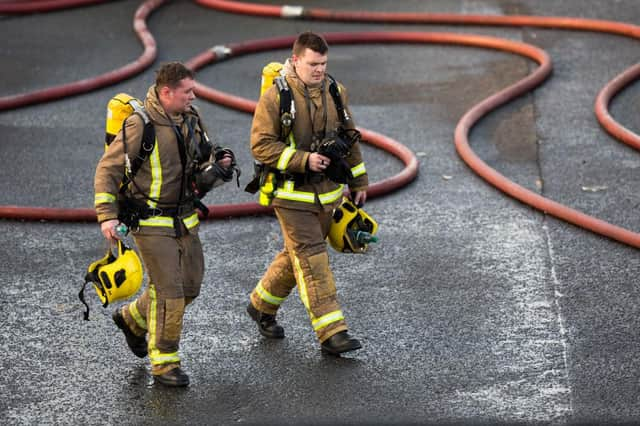 The Lifelines Scotland project was set up in 2016 by the Rivers Centre, NHS Lothian's specialist trauma service, to support volunteer emergency responders.
The project has now been expanded to offer online support to all emergency responders, not just volunteers, after a funding boost last year of £138,000 from the Scottish Government.
It is based on ten essential principles, including that emergency responders are "not invincible" and accepting that psychological injury is an occupational hazard of the job.
The ten essentials also note that such an injury "doesn't mean you're weak or a failure" and that they can be healed.
Research shows that emergency workers are more likely to experience mental ill health than the rest of the population, and that they are less likely to seek help.
A key part of the Lifelines project is aiming to reduce stigma, said Project Lead Gill Moreton. The project is aimed at the whole services, including those not working in immediate response to incidents.
John Millar of the Scottish Fire and Rescue Service said in the past staff members coped with difficult experiences by having a cup of tea with colleagues or making light of the incident with "gallows humour", but that this is not enough.
"There is an inevitability with the job that people will be exposed to things that may have an impact on them, and it's how we support them and how we manage that. In the past we've probably not been as good as we could have been, but this year we've taken a massive step towards trying to improve that," he said.
Mr Millar added that mental ill health is not always directly caused by incidents at work, but the nature of the work may exacerbate existing problems.
A few years ago he attended the Rivers Centre with mental health problems following the loss of his eldest son.
"It had a really negative effect on me and my family, and I was able to get really good support from the service and from the Rivers Centre. I always say it actually saved my life, so this is something I'm really passionate about," he said.
"It's about using all the tools available to us as a service to try and protect the 8,000 people who work for us. It's ok not to be ok, it's ok to take a step forward, put your hand up, and say 'I need a wee bit of help here'".
Ms Moreton said: "The overarching message is to try and challenge the stigma, and to have this as something we can be matter of fact about, that we do something sensible on that pendulum – we're not saying staff are invincible, and neither are we saying they're all doomed."
Ms Moreton said she wanted people to view psychological injuries the same way as they would physical ones.
"If a firefighter does his back in when he's lifting something he's going to get help, so if he experiences nightmares after going to a horrible road traffic accident then that's also an occupational injury, and we've got treatments that will fix that. We're trying to be very pragmatic and the goal is for that pragmatism to challenge the stigma," she said.
A message from the Editor:
Thank you for reading this article. We're more reliant on your support than ever as the shift in consumer habits brought about by coronavirus impacts our advertisers.
If you haven't already, please consider supporting our trusted, fact-checked journalism by taking out a digital subscription.