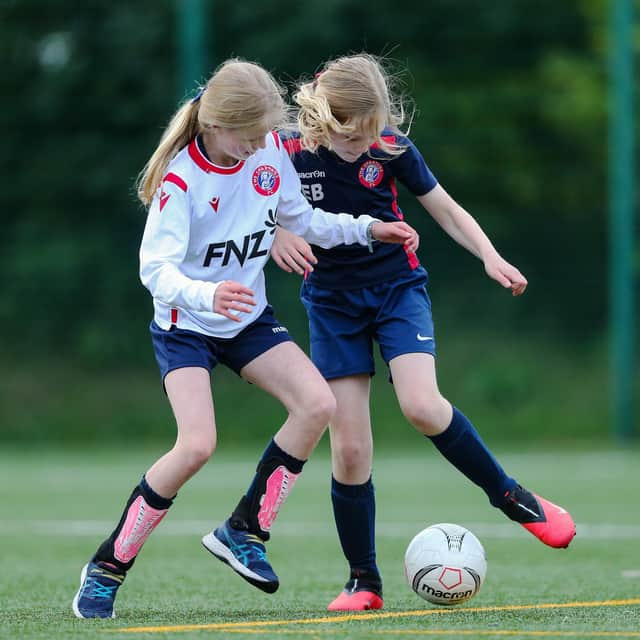 The Spartans Academy has always been focused on improving people's lives through sport.
Later this year a team of Scottish football players will pull on their socks, lace up their boots, say a small prayer and head out onto the hallowed Hampden turf (hopefully!) to take part in the Euro 2020 tournament.
It will, for the wrong reasons, be an historic moment, and not just because the tournament is starting a year late. The first appearance this century of our national team in a major finals, and on our own pitch, would in normal times be leading to an expectation of a huge national celebration of sport. These are not normal times though.
Instead of the Hampden roar, the team could find themselves greeted by the sounds of silence, or perhaps a small handful of supporters, depending on Covid restrictions. UEFA have even threatened to move the match from Hampden entirely, if Scotland cannot guarantee fans in the stadium and fan zones in the streets.
Whatever happens off the pitch however, on it will be a squad of players desperate to make their nation proud after so long in the international wilderness. And while Covid may yet rob the Tartan Army of their biggest day in decades, it could also be a catalyst to change our sporting fortunes forever.
Hampden's 50,000 capacity stadium is significantly greater than Spartans Football Club's Ainslie Park and its 3,000 limit, but Covid has proved a great leveller and over the last year both have had exactly the same number of supporters - zero.
And while the spectacle of Scotland again playing with the elite of European footballing nations will be a welcome boost for the nation, the quiet work going on at Ainslie Park could have a more profound and lasting benefit.
In recent weeks the club ground has been brought to life by the sound of youngsters going through their paces, coaches overseeing drills and the to-and-fro of a busy community facility.
Douglas Samuel, Chief Executive of Spartans Community Football Academy.
"It's been brilliant," admits an animated Douglas Samuel, the CEO of the Spartans Community Football Academy. "This is what the facility was built for – giving people the chance to play sport in safe, modern facilities. The importance of physical play and exercise has never been more important".
In truth, while football had to stop, the Academy never did, instead using its resources to help people through the lockdown with food deliveries and other support. This community ethos kept them going and revealed the wider, often unseen benefits derived from sport.
The Spartans Football Club was established by two former Edinburgh University players, Elliot Wardlaw and Jimmy Beaumont, in the summer of 1951, originally for former university and college footballers, but soon opened up to the wider population.
The club became full members of the Scottish Football Association in 1976 when moving into City Park as tenants of Edinburgh City Council.
The Spartans Community Football Academy have recently seen a welcome return to sport.
The Spartans Community Football Academy is the charitable arm of the football club, formed in August 2006 as a separate company.
At the time the club were looking to redevelop their home at City Park, but then an opportunity arose to create a new community facility in Ainslie Park. It was not easy - the club had to raise over £2.7 million, which it achieved through various fundraising activities, from low level events to being awarded significant grant monies, including £0.5M from SportScotland. And on December 5 2008 the academy was opened.
"The club was already embedded in the community; I know that from personal experience as I finished my playing career there," says Douglas.
"I used to see local children coming along helping put up pitch-side banners, our goalkeeper would attend the local gala day, we had players refereeing school sports - the whole club was more embedded in the community than anywhere else I'd seen, and that was more than 20 years ago, so in that regard it was ahead of its time."
Like so many of his peers, Douglas grew up at a time when it was normal to spend all hours outside kicking a ball - something talked about now as if it were a myth from some forgotten age, but which commonly allowed youngsters to get in the thousands of hours of practice needed to hone a skill.
Away from the national side, arguably Scotland's greatest achievement in football is still the historic European Cup triumph of Celtic in 1967. The Lisbon Lions famously grew up on the streets of Glasgow, putting in untold hours honing their ball skills on the street.
The decline in the fortunes of our players in recent decades has been marked, and those at the sharp end link it to the loss of 'free sport' from streets and parks and lack of adequate investment in providing a replacement that everyone can access. It is no surprise to them that a decline in participation in sport across deprived communities has matched a growth in obesity and other health problems.
Reversing this trend is both vital and possible, however, and not just for the nation's fortunes on the pitch. Getting the country actively engaged in sport of all varieties is a key prevention tool to combat obesity, poor physical and mental health and the potentially devastating effects of lockdown. And it starts at community level.
"I didn't have online community or social media," Douglas says, "and sport was like a second family to me.
"There was no online community, no social media either, and sport was like a second family to me. That is one of the biggest benefits that is being lost - there are so many social benefits from taking part in sport.
"Sadly, there has also been a correlation with the decline in investment in sports facilities in recent times. If you look at the capacity of sport now in terms of the physical landscape, in particular facilities that are available to everyone, we are falling short.
"Although we can point to some large-scale iconic facilities that can be held up to the public as an example of money being put into sport, investment for community-based facilities that are accessible to everyone is insufficient. We need investment at both ends of the scale".
The Scottish Household Survey told us that in 2019, pre-Covid, 46 percent of Scotland's population aged over-16 were engaged in no monthly sport at all. That clearly rose in 2020-21 and of serious concern now is what sport will be available when the all-clear is given? There is speculation that hundreds of community sport facilities will not re-open, due to overhead costs and low income, while those that do will have to increase fees to try to recover lost income from the past year. Combined with rising unemployment and hardship in many Scottish communities, how will that affect access to sport?
Poverty and inequalities were identified as the main barrier to sport in Scotland prior to Covid, by Professor Tess Kay of the University of Stirling, in an OSS research report published a year ago.
The Spartans Academy has been tackling that barrier for some time, with learning and development opportunities, health, employment and crime reduction all part of community-based activities and programmes in deprived parts of Edinburgh. And their website is full of testimonials and case stories that underline their success in transforming lives.
"We were quite clear about our purpose at the start," explains Douglas. "Our intention was to be a charitable arm focused on improving the quality of people's lives in Edinburgh.
"We were quite clear about social purpose at the start," explains Douglas. "Our intention was to play a meaningful part in improving the quality of people's lives in North Edinburgh. This intention sits at the very heart of who we are and what we do.
"From the start it was about trying to deliver excellent services in our local community that would make a genuine difference, in areas such as youth work, education, physical activity and health and well-being. These areas remain a key focus today".
Having control of their operations, and the community centre created by the club, has been key to the Academy delivering on its goals.
It has still required that significant initial investment and incredible fundraising efforts, but has more than repaid backers with widespread community, health and economic boosts - key elements of community sport that the 'National Conversation' is seeking to turn the spotlight on.
A recent study by UEFA to determine the value of community football found that Spartans delivered benefits to the local area valued at over £5 million per year – and, Douglas points out, their calculation did not include their extensive youth work and long-term benefits he knows that it brings to the participants, their families and communities.
"It's difficult for government, and it would be easy to say we don't get enough support, but you have to be realistic - there is only so much money to go around and governments have to make difficult choices about who gets what," he says. "But sport is and can be a great thing for society. It is not going to solve every problem, and it's fair to say it's not perfect. Against a backdrop of the public purse reducing – it's more important than ever for us to articulate the wider social benefits sport can have.
"If the last year has shone a light on anything it's the inequalities that exist in our society today. Different parts of society experience barriers to participation in sport, and that is even more reason for us as sector to challenge ourselves, to take stock and ask ourselves are we actively reaching out across our local communities, listening and removing those barriers.
"There's a tsunami of mental health issues coming around the corner which are already being seen. In addition, Scotland hasn't just discovered it has got an obesity challenge, we've had one for decades. Coming out of the pandemic gives us a perfect chance to ask ourselves are we investing in the right areas, are we being efficient in terms of the public spend. Sadly, the statistics around physical health and well-being suggest we are still failing".
For Douglas, community inclusion is the priority for any strategic sport plan, and he believes more national leadership and cohesion is required.
"We from day one we have had a programme called 'street football in a safe place' enabling children and young people to play here for free every day," he says.
"Some families simply don't have the disposable income to enable them to sign their son or daughter up to take part in sport. We need to do more to make playing sport more accessible. A few pounds may mean nothing to some, however, for others it's a meaningful amount.
"We are by no means alone in that - I see brilliant work across the country. Clubs and people rooted in local communities using their networks to help in the area where their club is based, connecting with people in a caring and compassionate way.
"The national solution needs to be built around local action and Clubs. Yes, we need a vision, a coherent plan from the top. How can the powers that be best serve Clubs to enable them to embrace the opportunities to do more around improving the quality of people's lives".
The first challenge for many thousands of clubs as they finally emerge from lockdown will simply be survival, as the loss of a year's income bites, but Samuel is a glass half-full character and believes the pandemic has provided a fresh opportunity for a fresh start in Scotland.
"I think that you've had, in lockdown, a lot of people suddenly taking up recreational exercise, whether it's walking, cycling or Joe Wicks. The challenge and opportunity for those of us in sport is how do we connect with this new pipeline of people doing exercise?
"If we just return to the status quo, there is a real danger we will lose a whole wave of people who have never been so engaged in exercise. How do you tap into that recreational pipeline and create something sustainable?
"At the same time finances must be a concern - poverty begins with financial poverty, and so that will be a real concern for clubs.
"In terms of our own youth section, families have been incredibly supportive - so many continued to pay club membership fees to support our community efforts.
"Sadly, there will be some clubs at serious risk of going under. When facilities reopen, they may have no choice but to try to reclaim losses, which could put prices up – making it more difficult for people to participate.
"There has to be a look at how facilities can be more accessible. When you see the real social benefits that can be achieved, how can more sports clubs take ownership of facilities they currently use?"
He added: "That's why we need this 'National Conversation'. Now is the time to look at how we support community facilities in Scotland, and enable more sports clubs to take ownership of their facility to make them more accessible. That has to be the way when you see the real benefits that can be achieved."