Most Scottish drug users back consumption rooms, study shows
The vast majority of drug users in Scotland would be willing to use safe consumption rooms, new research has revealed.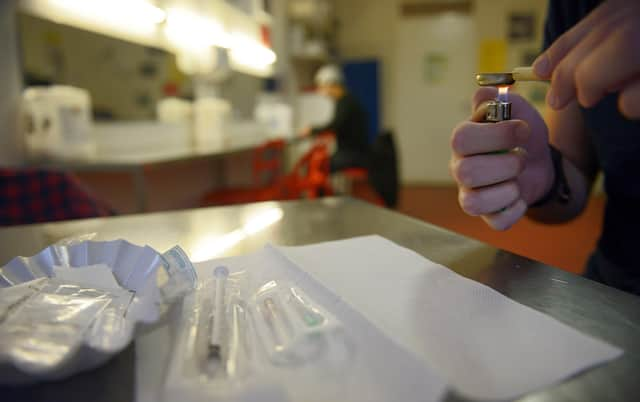 The study, led by Glasgow Caledonian University, found those most at risk of drug-related harm would be particularly keen to use such facilities. Researchers interviewed 1,469 people who inject drugs for the study, which was completed in light of proposals by officials in Glasgow to introduce the UK's first drug consumption room (DCR).
The Home Office said it does not support DCRs, which are facilities where people who inject drugs can do so in a safe environment under supervision.
The study found 75 per cent of people who inject drugs in Scotland were willing to use DCRs, but the proportion was higher among those interviewed in city centres, including Glasgow at 83 per cent.
Willingness was greater among people who reported using heroin (76 per cent) and cocaine (79 per cent), and those with experience of homelessness (86 per cent), public injecting (87 per cent) and recent overdose (80 per cent). Kirsten Trayner, lead researcher in the study, said: "Willingness to use a drug consumption room was extremely high across all regions in Scotland and among key risk groups, including those who reported homelessness, cocaine injecting and public injecting.
"The vast majority of people said they would use a drug consumption room if it was introduced in their area.
"It shows that this intervention will attract those most at risk of different drug-related harms, particularly HIV and overdose in Scotland. They have the potential to make a big impact in areas where they are introduced."
Ms Trayner was part of a team of 11 field workers who collected data across Scotland.
They used a detailed questionnaire that examined a range of demographics and behaviours such as homelessness, the type of drugs injected, drug treatment and incarceration history – all questions which were related to an individual's injecting risk.
She said: "This is the first research of its kind in Scotland and particularly important given the recent proposals to establish a drug consumption room in Glasgow city centre.
"We have also been able to demonstrate that people injecting drugs in city centres, both in Glasgow and elsewhere in Scotland, would be willing to use a drug consumption room."
A UK government spokesman said: "Illegal drugs devastate lives and communities, and we have no plans to introduce drug consumption rooms in the UK."
Comments
 0 comments
Want to join the conversation? Please or to comment on this article.