Ministers 'failing' Scottish children with long Covid, campaigners warn
It is claimed nearly 52 times as much cash had been spent in England on long Covid than in Scotland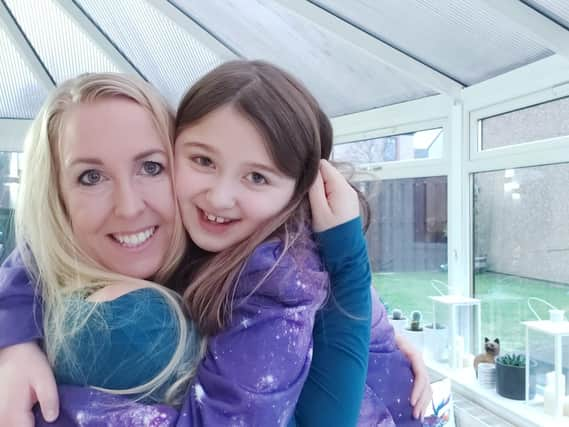 Ministers are "failing" children with long Covid amid a refusal to commit more support for patients suffering with the debilitating condition, campaigners have said.
Helen Goss, whose daughter Anna now uses a wheelchair because of long Covid, said a letter by public health minister Jenni Minto was "complete drivel".
Ms Minto was replying to cross-party politicians demanding evidence of what action has been taken to help the estimated 175,000 people, including children, with the condition.
In September, Scottish Liberal Democrat leader Alex Cole-Hamilton, Scottish Labour health spokeswoman Dame Jackie Baillie and her Scottish Conservative counterpart Dr Sandesh Gulhane argued nearly 52 times as much cash had been spent in England on long Covid than in Scotland, and they warned patients are being forced to turn to private healthcare.
In her response, Ms Minto said the Government takes the condition "very seriously" and had established a £10 million long Covid support fund, with £3 million in 2022/23 and a further £3 million in this financial year.
She also said the University of Leeds is to undertake analysis of the demand for and capacity of long Covid services in Scotland.
Ms Minto's letter also advised that "initial investigation for children and young people with symptoms consistent with long Covid is being provided by primary care teams, who can give advice and guidance about the management of symptoms and any potential treatment options", with referrals made to occupational and physiotherapy where appropriate.
But Ms Goss, the chief operating officer of campaign group Long Covid Kids, said: "This response from the Scottish Government is complete drivel.
"The Scottish Government is failing the long Covid community. How can they write a letter like this knowing there are children in Scotland so sick they can do nothing else but stay in bed?"
Mr Cole-Hamilton, who highlighted long Covid support south of the border was £314 million, said: "Big promises were made to children with long Covid but now they are being told to sit and wait.
"Every day ordinary Scots are facing breathing difficulties, crushing fatigue and chest pain. Some of them have been suffering for over three years. They are missing out on their childhoods.
"I cannot understand why a child or adult with long Covid here in Scotland is worth so much less than one south of the border.
"Despite this brush off, I will continue to press the Scottish Government to ensure that clinicians have the training and resources they need to effectively diagnose and treat long Covid.
"No-one should be forced to fund their own treatment through private clinics or put themselves at risk with unlicensed medications and treatments available abroad."
Ms Minto said: "As I said in my reply, the Scottish Government takes the issue of long Covid very seriously and recognises the impact it can have on the health and wellbeing of those most severely affected, and assessment and support is being provided across Scotland.
"We are making available £3 million from our £10 million long Covid support fund over this financial year to support NHS boards to increase the capacity of existing services, develop these into more clearly defined local pathways and provide a more co-ordinated experience.
"This is in addition to what our healthcare system – supported by record funding of more than £19 billion – is already delivering in caring for people with long Covid across our full range of NHS services. This is proportionally around £1.8 billion more on Scottish frontline health services compared to England."
Comments
 0 comments
Want to join the conversation? Please or to comment on this article.