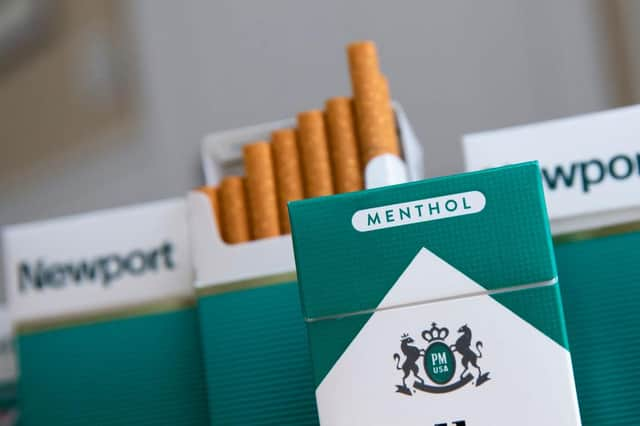 The ban also applies to capsule, click on, click and roll, crushball, or dual menthol cigarettes, and retailers must have sold through any remaining stock of menthol cigarettes by today.
The ban does not apply to heated tobacco products or e-cigarette products, however.
In the UK, it was already illegal to sell menthol cigarettes in packs of more than 20.
Here's everything you need to know about the ban:
Why are menthol cigarettes banned?
Deborah Arnott, Chief Executive of Action on Smoking and Health – a campaigning public health charity working to eliminate the harm caused by tobacco – said: "Research shows that menthol makes it easier for young people to start smoking because it masks the harshness when they first try to inhale.
"In reality, menthol cigarettes are just as harmful as regular cigarettes and most adult smokers become addicted to smoking in their youth.
"Removing menthol cigarettes from the market will deter young people from starting smoking.
According to smokefree.gov, many smokers mistakenly think menthol cigarettes are less harmful, though "there is no evidence that cigarettes, cigars, or smokeless tobacco products that have menthol are safer than other cigarettes.
"Like other cigarettes, menthol cigarettes harm nearly every organ in the body. They cause many diseases, including cancer and heart disease. Some research shows that menthol cigarettes may be more addictive than non-menthol cigarettes."
The charity ASH (Action on Smoking and Health) said that the changes to the law will stop the sale of any papers, filters, packaging, capsules or components which add flavouring to cigarettes or tobacco.
They said the ban will extend to any so-called "technical features" which allow customers to modify the taste, smell or smoke intensity of the product, which includes menthol filter tips.
However, menthol filters are not being banned, but it will be illegal to sell them packaged with tobacco or cigarettes.
It will still be legal to purchase menthol filters and hand-rolling tobacco if they are packaged separately.
Skinny cigarettes will also be banned from UK stores when the new EU law comes into force.
Menthol in cigarettes - a history
Menthol was first added to cigarettes in the 1920s, with the tobacco industry marketing them as being healthier and safer.
Advertisements emphasised their cool and refreshing taste, often juxtaposing them with images of nature, coldness, springtime, water, and other refreshing visuals.
The tobacco industry also targeted 'beginner' smokers, smokers with health concerns, and certain population groups, leading them to believe they were safer than non-menthol cigarettes.
In the US, lawmakers introduced a countrywide ban on flavoured vaping products in January 2020, amid concerns about their use by teenagers.