Mental Health Awareness Week 2021: Scottish experts call for greater distinction between support for 'mental health' and 'mental illness'
Scotland needs to rethink its approach to wellbeing by distinguishing between support for mental health and mental illness, senior figures have said.
They say that until health services, government and society face up to the idea that not all mental health issues require intensive clinical intervention, many people will miss out on the low-level help they need.
Lee Knifton Director of Mental Health Foundation Scotland, said: "We all need ways to be able to recognise, improve and manage our mental health.
"Most of us have ups and downs and a rush to diagnose and name distress can be unhelpful."
He said that one of this year's awareness-raising aims is to promote the benefits of spending time in Scotland's outdoors and wilderness, connecting with nature to reduce stress and anxiety.
It is one of many self-management steps people can take to improve their wellbeing. But not all mental health issues can be resolved solo.
Mr Knifton continued: "The fact remains that many of us don't have equal access to the things that can help our mental health – safe housing, access to nature, a place to exercise, or enough money to eat well and pursue hobbies and interests.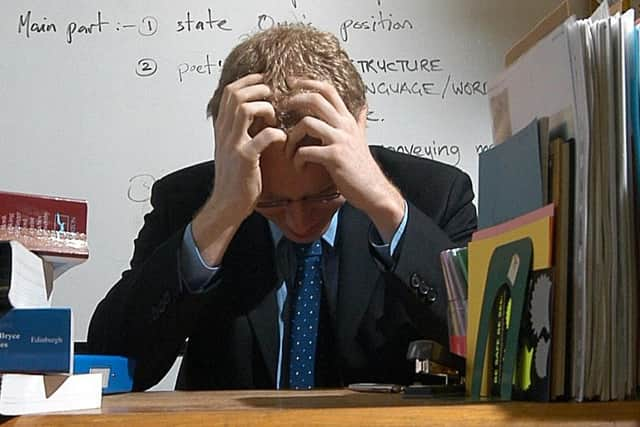 "Alongside this, we need to ensure that everybody who needs support with their mental health can get it.
"We have also called for the next Scottish Government to pilot a Mental Health Guarantee where people experiencing mild to moderate mental health problems are referred for community support or talking therapies within six weeks, helping to prevent problems from escalating and requiring more intensive clinical treatment.
"For those who do need support - either in crisis or on an ongoing basis - that support must be available quickly, consistently across Scotland, and for as long as needed."
It is a call which is echoed across the sector.
One mental health services manager from the Lothians, who asked not to be named, spoke frankly about the misconceptions surrounding what support is on offer and what is really needed.
Speaking to the Scotland on Sunday, he said: "We've medicalised mental health to the point that people think they require specialist services to manage their mental health, when actually the vast majority of the population can manage it using self-management techniques.
"Those who think they require medical intervention just don't know what else is out there because it's been drilled into us that doctors and hospitals can help.
"But not everyone needs that level of clinical help and you don't want to be going every week to sit and speak to a psychologist, you don't want to be in a psychiatric inpatient ward in a hospital unless you really need it because they aren't very nice places, you want to be out living your life."
He emphasised that while high-level clinical support is an essential part of delivering mental healthcare, it is time for people to think strategically about where investment is directed.
"There are three things which I genuinely believe you need; meaningful and sustainable relationships, suitable housing and sustained and meaningful employment," he continued.
"If one or several of those things is missing, you can quite easily see how somebody's life might go into chaos.
"Someone who is struggling might have a chat with a well-spoken doctor who will say 'what you need to do is self-manage; you need to go out and exercise, I'll give you breathing techniques and you should try yoga' all that type of stuff, which sounds great and is fine, until that individual goes back to their one-bedroom flat to a family of five in poor living conditions, with no employment, how is that person ever going to manage their mental health?
"Thoughtful investment and investment into lower level-services is the true way to support mental health, to give people the tools to live properly."
A study by the Mental Health Foundation in 2018 - the largest known study of stress levels in the UK - revealed that 74 per cent of adults felt so stressed that they were unable to cope and became overwhelmed.
Housing worries were a key source of stress among 18 to 24 year-olds, with 32 per cent citing it as a cause of their extreme stress.
The Lothian's mental health manager said that when someone with no history of mental illness suffers a nervous breakdown due to social factors, it is likely they will be referred to a psychiatrist who will assess their mental state.
If an assessment confirms they do no suffer from a clinical mental illness – such as schizophrenia or bipolar disorder – and their breakdown was a result of their everyday life just getting "too much" for them, they will be more often than not sent home with a list of the self-managing techniques.
He continued: "If we really cared about the nation's mental health we would invest in these early services, so when someone goes to the GP in the first instance saying 'I'm not really quite right', they wouldn't be offered a tablet or medication, they would be offered links into community projects.
"They would be encouraged to go to the footie on a Saturday, they would potentially get a support worker, someone to put their arm around them and actively take steps to help them improve their lives.
"That is properly addressing mental health."
A message from the Editor:
Thank you for reading this article. We're more reliant on your support than ever as the shift in consumer habits brought about by coronavirus impacts our advertisers.
If you haven't already, please consider supporting our trusted, fact-checked journalism by taking out a digital subscription.
Comments
 0 comments
Want to join the conversation? Please or to comment on this article.