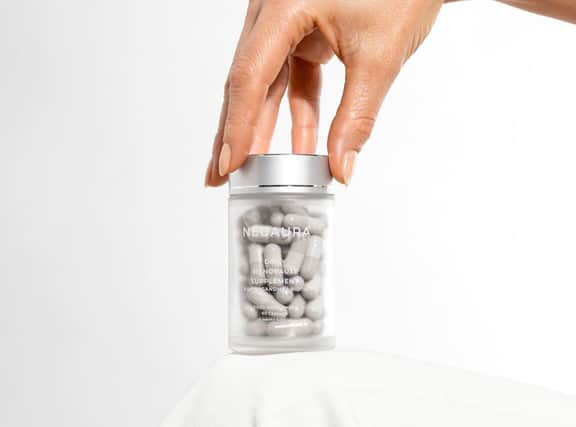 What was once a taboo subject, menopause has quickly become one of the most discussed topics among women, who now feel like they are able to open up about going through "the change".
Top-rated menopause supplements to try
What are the best menopause supplements UK? This is a frequently asked question by women online in the United Kingdom.
What was once a taboo subject, menopause has quickly become one of the most discussed topics among women, who now feel like they are able to open up about going through "the change".
The menopause conversation is supported by many high-profile celebrities who now speaking up to help tackle the stigma that surrounds the menopause.
Many workplaces are also beginning to introduce policies and procedures to help women going through the menopause and putting support systems in place for them.
However, despite this being a perfectly normal and natural part of ageing, and despite the fact it's being discussed more openly than ever, many women still don't know where or who to turn to when they're struggling with some of the difficult symptoms that often accompany the menopause.
Every woman's menopause journey is different, and every woman will have their own experience of the menopause, as well as a differing range of symptoms.
If you're lucky, you may go through this phase in your life with little to no symptoms however, others may really suffer, experiencing all the symptoms for quite some time.
There are some positives though, this 'menopause awakening' has triggered a wave of new menopause products and services specially designed to help ease the transition during menopause and help manage the symptoms.
However, more products unfortunately can mean more confusion. With so many options, it's hard to know which product is right for you?
This article will take a closer look at the menopause, some of the most common symptoms and what to look for if you are looking for the perfect supplement to make the transition a little easier, based on quality of the products, their ingredients, including herbal ingredients, their effectiveness and most importantly verified customer reviews.
These six brands are top-rated menopause supplements available in the UK market.
A quick look at the best supplements for menopause:
4: Seven Seas Perfect 7 Woman 50+ max
The 4 top-rated menopause products in the UK (2023)
The Neuaura menopause product has been designed specifically to help those of us suffering from even the toughest of menopausal difficulties.
This supplement was designed by industry-leading experts, and it shows through the level of praise it receives for providing support to many of the women who report that is very successful in reducing the most common of menopause issues.
Neuaura is one of the companies in the UK that has a well-known reputation for producing the cleanest, high-quality supplements on the market.
The unique formula consists of only high-quality, natural root extract ingredients and vitamins. It is also guaranteed to be free from all and any unwanted additives, bulkers, flavours or colourings.
The vegan-friendly formula is made in the UK to GMP standards, uses titanium dioxide-free capsules and is rigorously tested for purity and ingredient quality.
It also comes with a 30-day money-back guarantee, allowing you to try the product for 30 days to decide if it is the right product for you.
Quickly establishing itself as one of the most unique supplements in the menopause market is our next selection MPowder Meno-boost Daily supplement.
Bursting on the scene during the peak of the COVID-19 pandemic, MPowder quickly became a favourite among many of its customers.
The meno-boost daily supplement uses a uniquely designed formula to help support the body as it begins to experience menopausal changes.
Targeting many of the common symptoms caused by an imbalance of hormones, this all-in-one wholefood powder blend provides the body with the vital vitamins, minerals and amino acids your body requires.Certified by the Vegan Society, the blends contain quality plant-based ingredients and contains no fillers, caking agents or artificial flavourings, and no added sugar.
The hormone balance supplement is a vegan-friendly capsule developed by pharmacists in the U.K.
Their formula contains a range of vitamins and extracts that help combat many of the difficulties faced during menopause and contributes to overall internal well-being.
Standout ingredients noted for this formula are Turmeric, sage extract and Vitamin B.
Each capsule contains a clever blend of potent active ingredients with a mixture of essential vitamins, minerals, prebiotics and bursting with probiotics. This product is also gluten-free, as well as vegan and keto friendly.
4. Seven Seas Perfect 7 Woman 50+ max
The hormonal changes that menopausal women go through can affect any aspects of their health and life. But one of the most common, but overlooked issues faced by menopausal women is the impact it has on their skin, hair and nails.
The Seven Seas Perfect7 supplement helps with many aspects of menopause. However, one area that customers have seen a huge improvement is in the complex of their skin, as well as nail and hair growth.
Customers state that the level of growth experienced in both hair and nails after just one month of using the supplement was incredible. This is bolstered by the collagen element within this formula which helps keep hair and nails stronger for longer.
Menopause is when your menstrual cycle stops due to lower hormone levels. This usually happens between the ages of 45 and 55, but the average age is around 51.
Perimenopause is when you have symptoms before your menstrual cycles have stopped. You reach menopause when you have not had a period for 12 months.
Perimenopause can go on for several years and it's during this time you might start experiencing symptoms.
Symptoms can also continue for an average of four years after your last period, although they may last much longer than that for some women.
Common Menopause Symptoms
The first sign of perimenopause is usually, but not always, a change in the normal pattern of your menstrual cycle, for example, periods become irregular.
Eventually, you'll stop having these cycles altogether.
Common menopause symptoms may include:
This isn't to say that every woman will have to face all of these symptoms, some women are lucky and manage to escape having to deal with the dreaded hot flushes and night sweats.
However, there are usually a few exceptions to the rule and most women tend to have to deal with the full raft of then menopause, even to the point where it actually hinders their quality of life.
All of these scenarios are perfectly normal, and every woman's menopause journey is unique to them.
Symptoms can last for months or years and can change with time. For example, hot flushes and night sweats may improve, and then you may develop low mood and anxiety. Some symptoms, such as joint pain can carry on for much longer.
For many women, being in their forties and fifties is some of the busiest years of their lives. Juggling having a family, a career and every other curve ball life are throwing their way can be extremely overwhelming.
How to choose the right menopause supplements
Hormonal imbalance can be the cause of many of the menopausal symptoms, which is usually due to vitamin and mineral deficiency.
By taking supplements specifically designed to help with menopause, many women experience a noticeable improvement in their symptoms and their quality of life.
Apex studies earns affiliate commissions from some of the brands listed when sales are made from this article.