Meet the Edinburgh artist whose career went from painting to spending all day with the dead
Carrie Thomas spends her days at work preparing bodies before they are buried.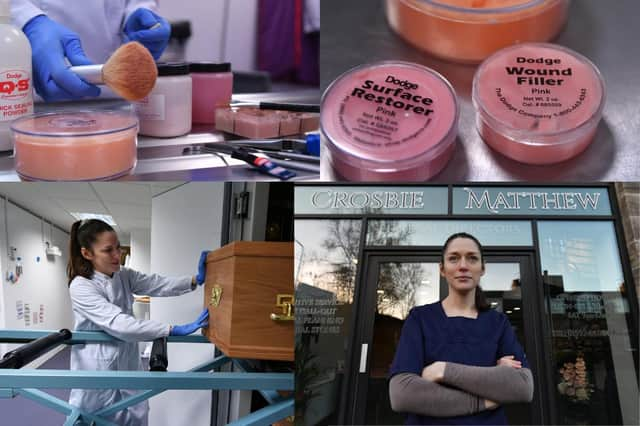 Carrie at work in the mortuary and photos of the tools and material she uses in reconstruction and preparing bodies picture: JPI Media/John Devlin
Carrie is an embalmer and mortuary technician.
The 40-year-old, who lives in Edinburgh with her five-year-old daughter, Lily, started her career as a painter after gaining her degree in Fine Art from Duncan of Jordanstone College of Art and Design in Dundee aged 21.
But soon after realising it was not for her, she felt she was more suited to working in the funeral industry and took up work at a funeral directors.
Some of working materials (makeup and putties) Carrie uses to prepare the dead for burial picture: JPI Media/John Devlin
It seems an odd transition, but death has been a big part of Carrie's life.
When she was a child, she lost two siblings to epilepsy. Her five-year-old brother David died when she was three, and her ten-year-old sister Zoe when she was 15.
A short time after, she lost a friend in a car accident.
Carrie, who now works at Crosby Matthew in Kirkcaldy, said she finds peace with her tragic past in her job, and it satisfies her artistic streak.
"Part of it is morbid curiosity," she said, "but I think losing my siblings has definitely played a part in why I am where I am now.
"I developed this craving for making sure people are comfortable and handled with care when they're dead.
"Just how I hoped my brother and sister were."
Carrie's first step into the industry was working for William Purves, a family-run funeral directors in the capital, while she was still at art school.
She went on to work as a funeral director but soon learnt she was more suited behind the scenes and took her embalming diploma in 2014.
"My exposure to death made me think I would be quite good at funeral directing," she explained.
"But as time went on I became more fascinated about working with the dead directly.
"When my friend died in a car crash his body was laid out, but his face was covered.
"I remember thinking it was a shame no one could look at him one last time because of his severe injuries."
That moment stuck with Carrie and she, to this day, is fascinated by the art of fixing people's faces using her artistic flare.
She went on to complete a post-mortem course last year where she developed her skills further in reconstruction.
"I get given a photo to compare the face with and use material like clay and wax normally.
"Every face I handle for reconstruction work is so different, it's incredible.
"I honesty feel privileged to have seen some of the things that I have seen and to have a job where I can use my creativity and explore my art and craft skills."
Carrie said facial/body reconstruction is not as common in the UK compared to the USA.
"It's satisfying for me when I can help bring someone's face back. I personally feel quite privileged seeing some of what I have seen.
"You get used to the things that shock you."
Having become accustomed to working with the dead, Carrie said she has learned more about how to accept death and bodies for what they are.
"We only do embalming because we are not comfortable with death, we are afraid of what the bodies become," she sad.
"It might help it look more presentable, but seeing a body as it really is helps people accept death."
She said the chemicals used in embalming are harmful for the environment, and the Crosbie Matthew team has an ethical approach which means that they use natural and environmentally friendly methods where they can, and only embalm when absolutely necessary.
When asked about whether or not her five-year-old daughter Lily knows about her work with the dead, Carrie responded: "She's right at that age where she asks a lot of questions, and asks about death.
"I am very open about it with her, it's important to be. It's important that we are all more open about death."
A message from the Editor:
Thank you for reading this article. We're more reliant on your support than ever as the shift in consumer habits brought about by Coronavirus impacts our advertisers.
If you haven't already, please consider supporting our trusted, fact-checked journalism by taking out a digital subscription.