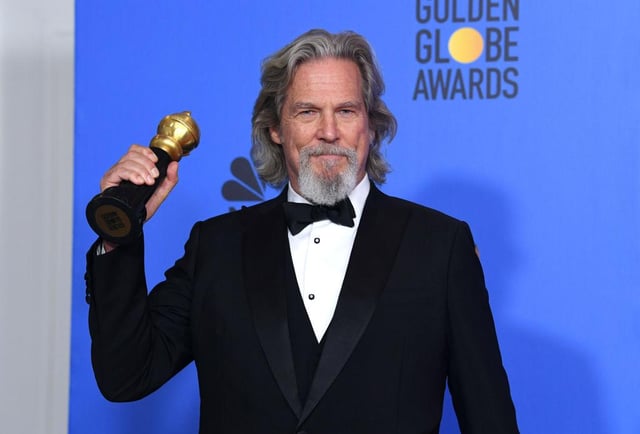 The actor revealed the news about his diagnosis on Twitter (Photo: Kevin Winter/Getty Images)
Oscar-winning actor Jeff Bridges has revealed on Twitter that he has been diagnosed with lymphoma.
Bridges, 70, is best known for roles in films such as The Big Lebowski, True Grit and Crazy Heart.
He last appeared in the 2018 film Bad Times at the El Royale, and is currently filming TV series The Old Man, which marks his return to series television after 50 years.
What did Jeff Bridges say?
The actor took to Twitter to share the news of his diagnosis, tweeting: "As the Dude would say… New S**T has come to light.
"I have been diagnosed with Lymphoma. Although it is a serious disease, I feel fortunate that I have a great team of doctors and the prognosis is good. I'm starting treatment and will keep you posted on my recovery."
He followed up his initial announcement with another tweet, writing: "I'm profoundly grateful for the love and support from my family and friends. Thank you for your prayers and well wishes.
"And, while I have you, please remember to go vote. Because we are all in this together. Vote.org. Love, Jeff."
Fellow actors replied to Bridges' tweet with words of support, like George Takei who wrote: "You're a fighter. You can beat this."
West Wing star Marlee Matlin also replied: "Sending love and good thoughts, my friend."
"Sending you so much love, man," wrote Mark Ruffalo.
Lymphoma is a type of cancer which develops in the lymphatic system, a network of vessels and glands spread throughout the body.
There are actually two types - Hodgkin lymphoma and non-Hodgkin lymphoma - however Bridges did not state which one he has been diagnosed with.
Hodgkin lymphoma is described by the NHS as "an uncommon cancer", whereas non-Hodgkin is much more common.
What are the symptoms of lymphoma?
The symptoms for non-Hodgkin lymphoma and Hodgkin lymphoma are the same, with the most common symptom of the cancers being a painless swelling in a lymph node, which is usually found in the neck, armpit or groin.
Other, more general, symptoms of lymphoma includes:
- Unintentional weight loss
- Feelings of breathlessness
- Persistent itching of the skin all over the body
The NHS says that if you have any of these symptoms, particularly if you have swollen glands that do not go away after six weeks, you should consult your GP.
These symptoms are unlikely to be caused by lymphoma, but it's always best to get them checked out by a professional.
Your GP will likely do a simple physical examination and ask you about your health. Where necessary, you may be referred to hospital for further tests.
A biopsy, which involves removing some of all of an affected lymph node, will be able to determine whether you have Hodgkin or non-Hodgkin lymphoma.
There are different treatment routes depending on whether Hodgkin lymphoma or non-Hodgkin lymphoma has been diagnosed.
The NHS describes Hodgkin Lymphoma as a "relatively aggressive cancer and can quickly spread through the body", however it's also one of the most easily treated types of cancer.
Treatment depends on a person's general health and age, however the main treatment options are chemotherapy and radiotherapy.
Surgery generally isn't used as a treatment for Hodgkin lymphoma.
"Overall, around 85 per cent of people with Hodgkin lymphoma live at least five years and most of these will be cured," the NHS explains.
Non-Hodgkin lymphoma is also generally treated with chemotherapy or radiotherapy, although some people with this type of cancer may not need treatment straight away.
In some cases, if non-Hodgkin lymphoma is found early and the cancer is very small, it can be removed during a biopsy, and no further treatment will be needed.
Some people may also be recommended to adopt the "wait and see approach" if the cancer is developing slowly, as for some it may take many years before they experience troublesome symptoms.
In these cases, starting treatment immediately is seen as unnecessary.