Latest A&E figures show less than two-thirds seen within four-hour target
Less than two-thirds of recent attendances at accident and emergency units were seen in the four-hour target time, according to figures published as the Health Secretary prepares to step up to become first minister.
A Scottish Government target aims to ensure 95% are seen within that time.
Of the 25,160 attendances, 1,382 people waited longer than 12 hours, while 3,344 waited more than eight hours.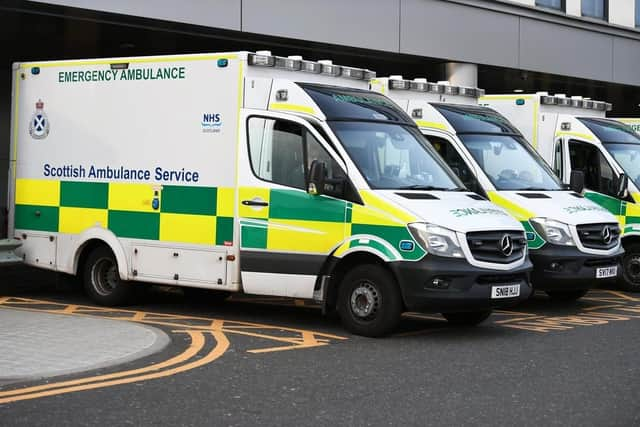 A total of 9,342 waited longer than four hours.
A&E performance in Scotland has consistently missed the 95% target in recent years, last meeting it in the early days of the pandemic when the number of people going to emergency departments had dropped considerably.
A spokesman for the Scottish Government said: "The entire health and social care system is still under pressure given the impact of the Covid pandemic, which continues to have a significant impact on performance.
"We are grateful to all health and social care staff for their outstanding effort in the face of this sustained pressure.
"As the health service works to recover from the most challenging winter period in its history, we will continue to see fluctuations in performance figures from week to week and month to month."
The figures come as Health Secretary Humza Yousaf is set to become first minister, succeeding Nicola Sturgeon, after he won the SNP leadership contest on Monday.
Scottish Conservative health spokesman Dr Sandesh Gulhane said the figures are a "humiliation" for Mr Yousaf as he takes on the top job in the Scottish Government.
"We're well into spring and yet these A&E waiting times are the worst recorded since the peak winter pressures at the turn of the year," he said.
"It's totally unacceptable that almost 1,400 patients had to wait more than 12 hours to be seen in the space of a week, as these waits inevitably lead to needless deaths.
"A fully-focused Humza Yousaf was bad enough for Scotland's NHS, but a half-focused one, preoccupied by the SNP leadership election, has meant things getting even worse in our emergency wards at a time when they ought to be getting better.
"One of his first priorities as first minister must be to belatedly get on top of the NHS crisis he presided over as Health Secretary."
Scottish Liberal Democrat leader Alex Cole-Hamilton said the figures are Mr Yousaf's "parting gift" to patients in Scotland.
"These new statistics should serve as a strong reminder to Humza Yousaf that though he may no longer be Health Secretary after today, the crisis in our NHS must remain at the very top of his in-tray," he said.
"Humza Yousaf certainly cannot continue to oppose our constructive proposals such as an urgent inquiry into the hundreds of avoidable deaths linked to the emergency care crisis, a burnout prevention strategy and a health and social care staff assembly."
Scottish Labour health spokeswoman and deputy leader Jackie Baillie said Mr Yousaf is "leaving an abysmal record of failure in his wake", adding: "Since he took over as Health Secretary, Mr Yousaf has failed on every metric he set himself. He failed to get a grip on A&E, cancer wait times, delayed discharge, or the one in seven Scots stuck on waiting lists.
"His inability to handle the crisis in our NHS has dominated his time as Health Secretary, and this shameful record will follow him into his next job.
"I sincerely hope that whoever takes over this role will take action immediately to end the crisis facing our NHS for good. They cannot surely do a worse job than Humza Yousaf, who was the worst Health Secretary in the history of devolution."
Comments
 0 comments
Want to join the conversation? Please or to comment on this article.