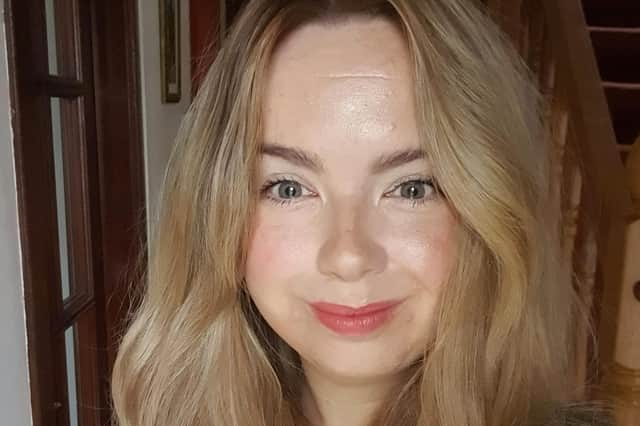 Carla Callaghan, 36, was diagnosed with multiple sclerosis in 2013.
She is classed as clinically vulnerable, and was told to shield at the start of the pandemic.
Because of her condition she will be eligible for a vaccine in February, but has chosen not to receive it immediately in order to continue with her MS treatment, cladribine.
Ms Callaghan said the decision is a personal one, and that all decisions relating to Covid-19 vaccines for clinically vulnerable people should be taken by each individual patient, on the advice of healthcare professionals.
"I've faced the difficult decision of having to choose between getting the Covid vaccination or proceeding with year two of treatment that will help stabilise the MS," she said.
"Cladribine is a disease modifying therapy which essentially wipes out and rebuilds the immune system, therefore I can't have both at the same time. This is a frustrating situation as due to the fact I am in the shielding category because of the treatment, I have been told I would be eligible for the vaccine in February.
"I am grateful for the ongoing support of my MS nurse who is always there to provide information - however the decision to protect against Covid or protect against MS progression ultimately falls on the patient.
"After a lot of thought, I've decided to go ahead with treatment as I feel that due to shielding, I can control the Covid risk as much as possible, but I cannot control the volatility of the MS.
"No one person with MS is the same and every single situation is different. More information needs to be available and people need the support and guidance to make the right choice around such a vital decision."
The MS Society has called for more guidance for clinically vulnerable Scots around the Covid-19 vaccine.
A survey of over 3,000 people in the UK with MS part-funded by the charity found that 69 per cent of respondents said they would definitely take the vaccine, but 72 per cent said they would benefit from more advice around it.
"MS is a complex condition and it is completely understandable that many of our community will have questions about the vaccines available for Covid-19," said Morna Simpkins, MS Society Scotland director.
"The NHS is under incredible pressure and we are hearing from people who are faced with an incredibly difficult choice and are desperately looking for more information from charities like us."
The MS Society advises there is no reason to believe a Covid-19 vaccine might be unsafe for those with MS, but that it may have a lesser effect during some treatments, including cladribine.
According to the Association of British Neurologists, the vaccine is not expected to make the condition worse, and there is no suggestion it is a risk.
The Scottish Government advises that the vaccines are suitable for those who are immunocompromised.
"The vaccines are safe, approved by regulators, and we encourage all those who are able to get vaccinated," a spokesperson said.
They added: "There are very few people in the clinically extremely vulnerable group for whom the vaccine would not be suitable."
A message from the Editor:
Thank you for reading this article. We're more reliant on your support than ever as the shift in consumer habits brought about by coronavirus impacts our advertisers.
If you haven't already, please consider supporting our trusted, fact-checked journalism by taking out a digital subscription.