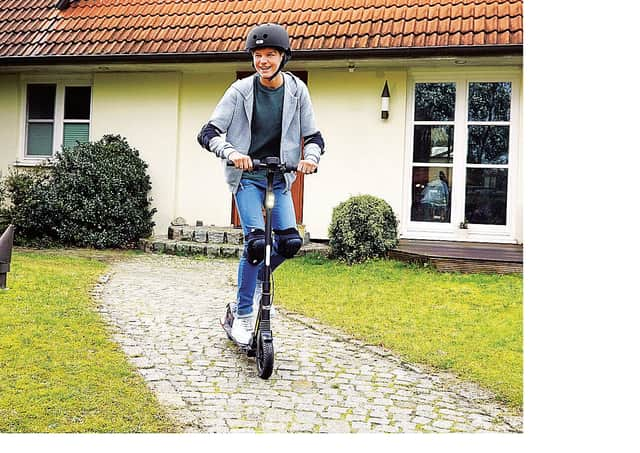 E-scooters sold by Lidl can only be used used on private property
The discount supermarket is advertising e-scooters in hundreds of thousands of copies of its Lidl Weekly offers leaflet without mentioning the restriction.
Lidl, which has 100 Scottish stores among 760 across Britain, admitted to Scotland on Sunday the omission was due to "human error".
The ads for the machines, which go on sale today, proclaim: "Supercharge your ride with this electric scooter featuring a powerful 350W rear-wheel motor." They can reach 15mph.
However, they failed to display the warning, which is on Lidl's website: "Vehicle not to be used on UK public highways (roads/pavements), vehicle must be used on private property with owner's consent, appropriate protective equipment to be worn and children must be supervised by an adult."
TV presenter Emily Hartridge became the first e-scooter rider in the UK to be killed when she was hit by a lorry in London last July.
The UK Government has launched a consultation into possible legalisation of e-scooters, but it would initially be confined to four test zones in England. The Department for Transport has told retailers to be clear to customers about where they can use them currently.
A poll last October by electronics firm reichelt elektronik showed fewer than one in four Scots wanted them legalised.
Neil Greig, the Scotland-based policy and research director of the IAM RoadSmart motoring group, said: "It is very worrying a major retailer is not highlighting the legal status of these scooters upfront in their sales materials.
"They may think showing it being used legally, with protective equipment, is enough, but that is leading potential users up the garden path and putting them at risk.
"Put simply, e-scooters are currently illegal and unsafe to use on both roads and pavements.
"By encouraging people to zip about on vulnerable e-scooters, Lidl is showing a complete lack of responsibility."
RAC spokesperson Rod Dennis said: "E-scooters are only legal for use on private land and it's vital anyone thinking of buying one knows this. We need retailers to be crystal clear on this point."
A Lidl spokesperson said: "We take the issue of product safety extremely seriously. We have warnings on our website, notifying customers about the legal requirements of the e-scooter.
"Unfortunately, due to human error during the production of our in-store leaflet, the warning was not included in the copy text.
"We can reassure customers, however, the warnings will also be included on signage that features above the product in store when it goes on sale.
"We sincerely apologise for any inconvenience caused."