Hip surgery delay now around a year in some health boards
​The average wait for a hip operation in Scotland has doubled in 11 health boards since 2019, according to research.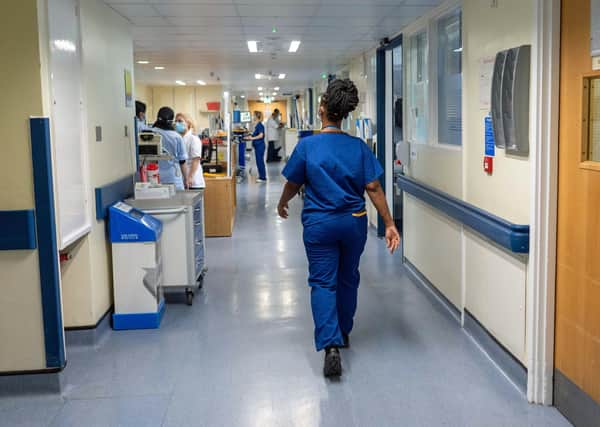 The average wait for a hip operation in Scotland has doubled in 11 health boards since 2019, according to research.
Figures published by think tank Reform Scotland show the largest health board, Greater Glasgow and Clyde, saw the average wait for the surgery increase from 162.9 days prior to the pandemic to 386 in 2023.
The most significant increase occurred in NHS Fife, rising from 38.4 days in 2019 to 193.8 this year.
Patients in the Borders now wait 371 days compared to 84 on average five years ago, while in Lothian waiting times have increased from 114.4 days to 359.5.
Only NHS Forth Valley did not record an increase on the same scale, but there the average wait did increase by 62% - from 117 days to 189.
NHS Orkney do not perform hip operations, while figures were not available for NHS Highland.
The report also shows the number of people on the waiting list has more than tripled in six NHS boards - Ayrshire and Arran, Dumfries and Galloway, Fife, Grampian, Lothian, and Tayside.
In Ayrshire and Arran, 772 people were waiting for a hip replacement in 2023 compared to 248 in 2019, while Dumfries and Galloway saw an increase from 66 patients to 321.
In Fife, 558 patients were waiting on a hip replacement on May 30 this year, up from 143 in 2019, while the waiting list in Lothian increased from 420 to 2,008.
Overall, 10,394 patients were waiting on the procedure on May 30, compared to 3,114 in 2019.
But fewer orthopaedic operations, which include hip replacements, have been carried out to date in 2023 compared to five years ago.
Elective surgeries - which are those scheduled in advance - declined in 11 health boards, while emergency surgeries fell in eight, with around 45,000 patients waiting for an orthopaedic operation across Scotland in 2023.
Dr Iain Kennedy, chairman of the British Medical Association (BMA) Scotland, has joined the think tank in calling for constructive conversations on how to improve the NHS in time for its centenary in 2048, as he said it is currently "bursting at the seams".
He said: "The figures in this report from Reform Scotland are shocking, yet not surprising. BMA Scotland has been warning for some time that the NHS in Scotland simply cannot deliver what is expected of it under its current limitation.
"It is a system bursting at the seams with a workforce running on empty - there are not enough of us to give our patients the time and care they need and deserve.
"The time for platitudes has long passed - we need action, and we need it now. We are in a year-round crisis with our NHS, and workforce planning is abysmal.
"The Scottish Government must move forward with their commitment to have a cross-party national conversation on the future of our health service - an open and honest discussion that also involves the profession and the public."
Chris Deerin, director of Reform Scotland, said: "If we are to maintain a taxpayer-funded, free-at-the-point-of-need system up to the NHS's centenary in 2048, reform is required in order to make the best use of the resources we have."
A Scottish Government spokesperson said: "Long waits of this nature are unacceptable. We remain committed to eradicating long waits, which have been exacerbated by the pandemic, to ensure all people receive the treatment they need as soon as possible.
"The First Minister has announced new annual funding of £100 million, subject to the Budget process, to help reduce inpatient and day-case waiting lists by an estimated 100,000 patients over the next three years.
"We have met our targets to reduce waiting times of over two years in most specialities, with 83% of outpatient specialities and 57% of inpatient/day-case specialities now having fewer than 10 patients waiting more than two years. Waits of over 78 weeks have also reduced by 40.6% for new outpatients since June 2022. This is welcome progress but we know there is still more to do."