Hidden impact of lockdown on families with new babies
Charities are calling for mental health help for families to be ramped up urgently after a new survey revealed fears over the damage lockdown is having on parents and babies.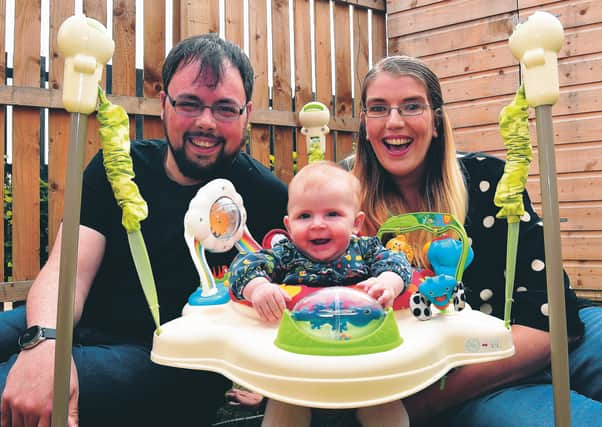 Charities are calling for mental health help for families to be ramped up urgently after a new survey revealed fears over the damage lockdown is having on parents and babies.
More than half of the respondents from an online survey of hundreds of expectant and new Scottish parents said their mental health is their biggest worry while 53 per cent feel their baby is "more clingy". However, charities behind the study warn that seeking help is more challenging while health services are delivered virtually.
More that 73 per cent of parents fear the impacts changes during the pandemic are having on their babies while a third are not confident they know where to get help.
The study by Home-Start UK, Best-Beginnings, Parent-Infant Foundation and the Maternal Mental Health Alliance has prompted calls for universal family support in every community.
Home-Start in Scotland has seen calls for help soar since March and fears that many parents at risk of post-natal depression could be struggling in silence. Douglas Guest, acting director for Home-Start in Scotland, said: "Families have struggled for months without usual support networks.
"We are hearing from many that previously wouldn't have contacted us. Some have been furloughed so have money worries. The need for help is going up exponentially. Parents as yet have no ante- natal groups so they are missing out on friendships.
"A big worry is the isolation, especially for the mental health of new mums. There are still many places where HV are not doing home visits. And it's much harder to ask for help on the phone or a screen."
Scotland's network of Home-Starts helps more than 3,000 families and 6,500 children every year in 20 local authority areas. Trained volunteers are now providing services by phone, doorstep delivery and online classes. But the charity says stop-gap services highlight the need for earlier intervention.
Guest said: "The longer people are 'just coping' the more we're storing up problems for the future. The development of babies can be affected when parents are anxious or depressed; it makes it harder to care for and settle kids. That can become a vicious cycle. We need to have a proper safety net, for it to be acceptable to say 'I need help'.
"Around 50 per cent of mums don't access services and about one in ten fathers suffer from post-natal depression, according to the National Childbirth Trust."
Guest added: "Many new parents are not able to access support from health providers while facing isolation. We urgently need a universal family support to tackle this. There's still a post-code lottery of support."
Other charities including Aberlour and One Parent Families Scotland have reported demand for help outstrips available services. Clare Simpson, manager of Parenting across Scotland, a partnership of organisations supporting families, said: "Before the pandemic many were already struggling while others were just managing to get by. It's simply not right that some families don't have enough income, decent housing or food for their children – it creates huge worry and anxiety for families.
A Scottish Government spokesperson said: "We have invested over £6 million of additional funding to support national mental health initiatives during this time, which includes £2.6 million to increase the capacity of NHS 24's telephone and online services, and funding to make additional parenting resources available through the Scottish Government's Parentclub website."
'I felt this big ball of emotions'
Caroline and Charles Ross were over the moon when Amelia was born in January.
But at just two weeks old the tot was rushed to Accident and Emergency.
"It was one of the scariest experiences of our lives." Amelia was diagnosed with silent reflux, a condition that makes feeding extremely painful.
Caroline, 29, said it took a toll. "We were dealing with a baby who was crying 90 per cent of the time. Every time we put her down she cried. There were some very dark days. You just don't get a rest. Not knowing what to do to help your baby is hard."
The couple, from Musselburgh, felt isolated from the start. When Amelia's condition started to improve lockdown came into effect.
Caroline, an events organiser, felt she wasn't coping.
"I felt this big ball of emotions. My anxiety was through the roof. I didn't want to worry my husband or family so put a brave face on."
She got counselling from local charity First Steps. "I had two months of counselling on the phone. I was in tears at the start. It was huge to have that space. Having that support was life-changing. It turned things around.
"I had heavy guilt because I knew that Amelia would pick up on how I felt and take it in.
"Some days we felt we were hanging on by a thread. I know that if I hadn't got support I would have crumbled.
Charles, 33, said: "Dads 2 Be group have been invaluable. But we felt we were left to just struggle on."
"Health services made it difficult when what we really needed was help. Our mental health was torn to shreds. I hope one of the things to come out of this crisis is that services will be made easier for people to access."
Comments
 0 comments
Want to join the conversation? Please or to comment on this article.