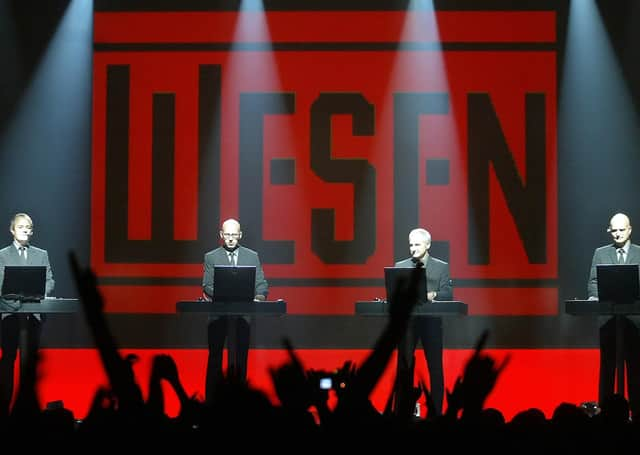 Stunning news from the workplace this week folks as I have taken charge of a standing desk and now tower over slouched colleagues like a journalistic Goliath to their Davids or Davinas if you prefer.
The installation took seconds and the winged chariot on the fifth floor of Orchard Brae House has been aligned to allow panoramic views of both the Queensferry Crossing and Mossmorran chemical plant for watching brief purposes combining fire and ice.
I am now one of three pioneers, nee #influencers, at Hootsman Towers battling the anachronistic morality of the office chair brigade, with their fat Coke and Mini Cheddar'd ways.
Sitting there in rows chained together like Terry Waite and John McCarthy while bright young things bring them assorted snacks and sundries from the vending machine (or rightly tell them to get their own junk food).
A respected hack has already saddled up to whisper the words "nice bit of kit" in my ear which took me back to Hereford and time spent with the Regiment – but I won't get into that for reasons of national security and oaths. "What we do in life, echoes in eternity."
After years of being bombarded with emails and follow-up calls from PR companies offering me all sorts of nonsense from essential oils to Hello Vera juice, Workout Midi Briefs and progressive tanning milk... eh? I turned the tables on them and 'reached out' for a freebie Varidesk which if purchased online will leave you with little change from a £400 note.
The company Vari promptly delivered but turned down my suggestion for a marketing campaign based around the catchy "Try a Vari, they're Barry" slogan.
I now eat my daily yoghurt with blueberries, almonds and a spoonful of manuka honey standing up while radiating the smugness of a recent convert who has been off the bevvy and fags for 18 months with the gout lying as dormant as old Arthur's Seat.
No, the halcyon days of 12 pints followed by a fish supper with smoked sausage chaser are but a distant memory for this marine and in the past they shall remain.
I'm now trying to wean myself off the Maltesers and After Eights with limited success. One day at a time, sweet Jesus.
Extensive computer research on yon internet shows sitting down for long periods of time can contribute to a whole host of health problems including heart disease, diabetes and chronic back pain and while the benefits of standing in the workplace are too early to firm up, it just feels right.
It's important to have your standing desk at the right height and it quickly becomes apparent if this isn't the case. I felt like I was in the front row at the cinema staring up at a giant screen to begin with, but now follow the 'elbows at no less than a 90-degree angle' rule.
I've found in my short time using the Varidesk (and other standing desks are available) that it works perfectly in tandem with my daily walks around Stockbridge to look at the artwork hanging in people's front rooms, check the staggering amounts of alcohol they consume when the booze bins are out for collection and occasionally stopping to buy a nice piece of fish from Armstrong's. "Got any salmon? Sorted."
It's part of a holistic approach I've adopted as I bid for immortality at the ripe old age of 51 in the peak of middle youth.
As any health reporter will tell you, the job comes with a large dose of hypochondria and I count my blood pressure machine among my most treasured possessions, along with my new age crystals and Diego Maradona poster.
One enjoys nothing more than getting up at 3am for an old man's pee and a quick check of the systolics and diastolics, while measuring the resting ticker rate.
But a word of warning, dear readers, you don't want to overdo this standing malarkey. I ventured to match my fellow standing deskers and one in particular who stands for upwards of eight hours per day in high heels and suspenders – although he's a bit of a show off.
So, not to be outdone, I went all in for the full Jean-Michel Jarre Oxygene look with stunning light show on my first day, much to the consternation of a beleaguered colleague who sits across from me.
This gargantuan effort hobbled my bad knee, a legacy of time spent playing amateur football on the killing fields of the Gyle and I ended up in bed by half-seven – after being on my feet for six hours.
My colleague had threatened to put cardboard barriers up so she didn't have to look at my pus staring down on here like Brian Blessed in Flash Gordon, but relented on realising this would make her no better than Donald Trumpet and his plans to build a wall to keep the Mexicans out. Well done, my friend, I salute your indefatigability.
The standing desk definitely feels like the future. I look around the office and imagine my colleagues standing in rows like Kraftwerk, glowing and radiating vitality with the latest 'must have' headphones on to drown out the bitter rantings of the seated dinosaurs.
We'll talk about the latest Netflix show, high-five each other then head out to watch the footy while downing bottles of non-alcoholic lager in a state of bliss.