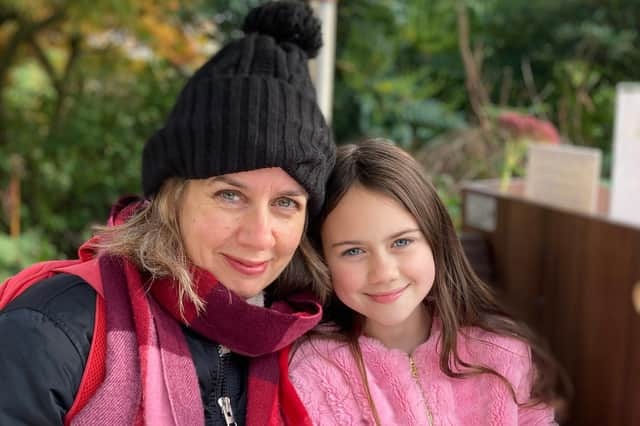 Tess, 11, had asthma, so Ms MacLaverty went to check on her.
Little did she know this would be the beginning of a 14-month nightmare, which would see Tess coughing an average of 100 to 150 times a day.
Tess's throat became sore and her life disrupted – by the end of the summer she was unable to go to school or to see friends in Glasgow, even when lockdown restrictions allowed it.
"She was despairing at times, sometimes she would just cry," Ms MacLaverty said.
"It had a huge impact on her ability to socialise, and she would come home from school almost crying because her throat was so sore."
Doctors were stumped. The consensus ruled out asthma and Covid-19, but consultation after consultation couldn't seem to bring up an answer.
Specialists suggested treatments including steroids, speech and language therapy and diet change – all to no avail.
Then one day in March 2021, after 14 months of Tess's coughing, Ms MacLaverty discovered a YouTube video about a young girl, Bethany, living in the US.
She also had a cough which no-one has been able to treat, until she found a retired paediatrician, Dr Miles Weinberger, who coached her into suppressing the compulsion.
A 'habit cough', he called it, as he coached Bethany to "take control", rather than letting the cough control her.
Ms MacLaverty showed the video to Tess, who followed Dr Weinberger's coaching and later spoke to the man himself via Zoom.
Two weeks later she is barely coughing at all.
"It was tricky at first; the urge to cough was so strong, Tess was whimpering and groaning, restless in bed, but she did it," said Ms MacLaverty.
She added: "She gets the tickle, she gets the feeling that she wants to cough, but she also knows that the vicious cycle has to be broken, and you can't give in to it."
Dr Weinberger characterises a habit cough as one which does not affect children while they are asleep, ruling out other causes of symptoms. It becomes a "vicious cycle" as coughing causes a sore throat, which then causes more coughing.
He has been researching the phenomenon since 1991, when he identified nine children with a similar cough, all of whom managed to suppress it after a 15 minute therapy session.
"Our approach emphasized empowering the child with the ability to resist the urge to cough and thereby interrupt what appeared be a vicious cycle where the cough produced a focus of irritation in the airway that acted as the nidus for the continued cough," he wrote in a 2018 peer-reviewed paper in Pediatric Pulmonology.
The approach worked for Tess, who said that before learning about the habit cough she "tried to stop" coughing but "the tickle would still be there, I just couldn't do it."
"I kept on coughing at the start and then I just watched the video and got better at it," she said.
Now she hopes to return to school in a few weeks, and is looking forward to being able to run around and talk to her friends without coughing.
A message from the Editor:
Thank you for reading this article. We're more reliant on your support than ever as the shift in consumer habits brought about by coronavirus impacts our advertisers.
If you haven't already, please consider supporting our trusted, fact-checked journalism by taking out a digital subscription.