Full face hot wax trend: TikTok craze explained as experts say videos should carry warnings - is it safe?
Experts have said the technique is unsafe, and could cause irritation in the future
Videos of users covering their faces with a heated wax-like substance have become popular in recent days, with some health and beauty vloggers calling the "treatment" beneficial.
But experts say the technique is potentially dangerous, and could even impede breathing.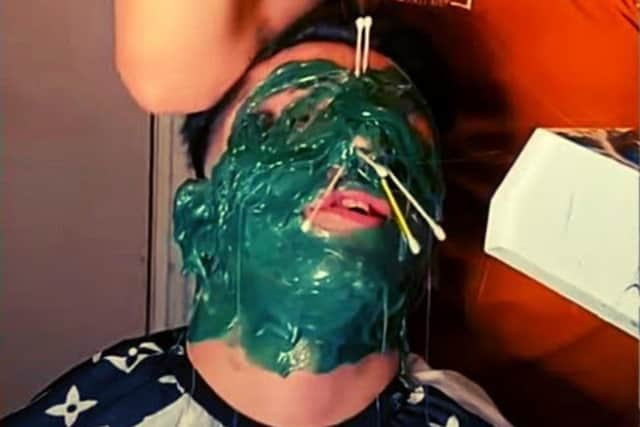 Here is everything you need to know about it.
What is full-face hot-waxing?
In the videos, the waxy substance is heated until viscous, and then poured onto a person's face.
In many instances, it covers their mouths and necks, and oftentimes penetrates their ears and nostrils. The wax is left on for a time, before being peeled off, which it is claimed removes unsightly hairs and leaves the skin refreshed.
Paper is used to protect eyelashes and eyebrows, and cotton swabs can be inserted into the nostrils and mouth to create makeshift air passages for the duration of the treatment.
Where the technique began is up for debate, but one of the earliest examples was posted to TikTok in November 2020 by Dutch barbershop Kapsalon Freedom.
After its videos were reported on by the Dutch media, the salon were deluged with new followers; the video has attracted over 80 million views. But in their video the bottom portion of the customer's face was left exposed.
Other videos that followed have been more drastic, with recent examples with millions of views showing the resin dripping down as far as people's necks.
But even before TikTok, the technique is thought to have been widespread in Middle Eastern countries.
Barber Renaz Ismael – who was born in the Middle East – told BBC News he was "the first person in the world who has done whole waxing," adding, "it's not bad for your skin."
Skincare experts are not quite as convinced.
The British Association of Dermatologists (BAD) told the BBC that "attempting to wax inside your nose or ears is not recommended," as other specialists said the social media platform should add warnings to such videos.
BAD's Dr Anjali Mahto said waxing is a "traumatic process" for the skin, especially in "sensitive areas such as those found around the eyes.
"These areas can become inflamed and irritated. In some cases, tiny pimples or pus-filled bumps could develop as a result. This is known as folliculitis."
In terms of short-terms effects, there appears to be very little control in smothering the face with wax, and since the substance eventually hardens, it could have to be surgically removed if it was to enter into the airways.
The British Skin Foundation's Dr Emma Wedgeworth said the technique should certainly not be used on children – some of the clips show the practise being used on primary-school-age youngsters.
"Personally I would not recommend treating children," the consultant dermatologist said. "It seems sensible to have a warning."
"There is a lot of misinformation and potentially harmful DIY beauty practices on TikTok and other social-media channels. And it would be good to see these more tightly regulated."