Flying Scotsman crash: Investigation launched after Highlands collision left two people injured
The 100-year-old Flying Scotsman locomotive was involved in a "shunting incident" with Belmond's Royal Scotsman train carriages last month
A investigation has been launched into the Flying Scotsman crash which left two people in hospital.
The Rail Accident Investigation Branch (RAIB) said the crash happened at a speed of about 7mph and injured "a number of passengers and staff", with one passenger and one staff member being taken to hospital.
RAIB has launched an investigation into the crash, which happened about 6.05pm on September 29 when the 100-year-old steam locomotive collided with a set of stationary Belmond's Royal Scotsman passenger carriages at Aviemore Station in the Highlands.
Inspectors said there was no derailment, but some damage was caused to the rail vehicles involved.
Heritage company Strathspey Railway owns the section of the station on which the crash happened.
The RAIB said in a statement: "Our investigation will seek to identify the sequence of events leading up to the accident."
The extent and type of any injuries and damage caused, and how this occurred, will also be examined, as will the actions of those involved and the "training and competence" of the railway management staff.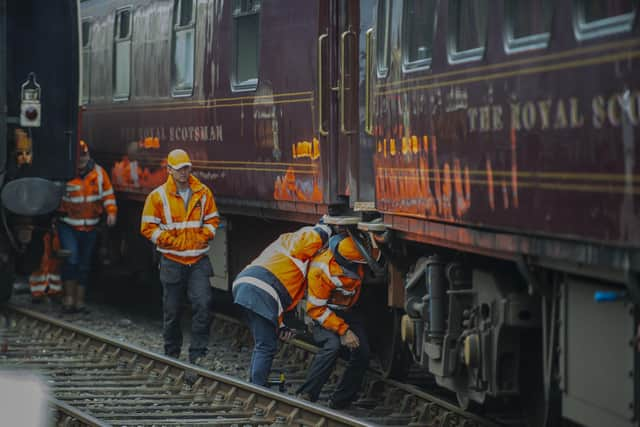 Investigators will also consider the type of operation in use when the crash happened and the policies and procedures in place for managing this as well as any underlying management factors.
The statement continued: "Our investigation is independent of any investigation by the railway industry or by the industry's regulator, the Office of Rail and Road.
"We will publish our findings, including any recommendations to improve safety, at the conclusion of our investigation."
Police Scotland said previously the two people were taken to hospital as a "precaution" and, as no criminality was established, it had referred the matter to the RAIB.
Flying Scotsman tours were cancelled for a week following the crash and resumed on Saturday, October 7, after the locomotive – owned by the National Railway Museum in York – was passed as fit for main line operation following a mechanical inspection.
Comments
 0 comments
Want to join the conversation? Please or to comment on this article.