Fears NHS dentistry may disappear in Scotland as more practices go private
Dentists are having to make "difficult decisions" about whether to continue with NHS work, according to the British Dental Association, as it called on the Scottish Government to publish a new funding model for dentistry in Scotland.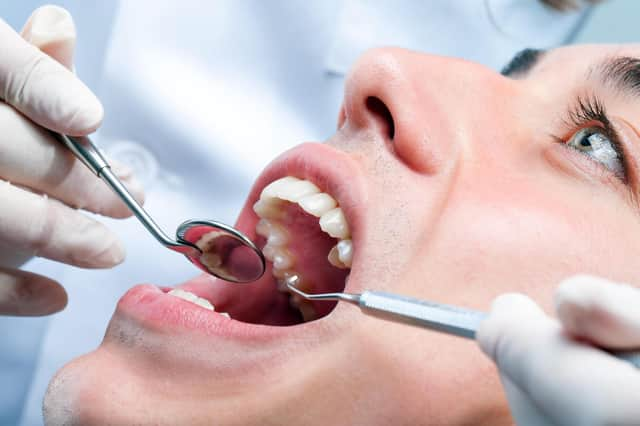 Charlotte Waite, director of BDA Scotland, said "the funding model hasn't kept up to pace with inflation and the soaring costs that we're seeing at the moment", with some dentists providing NHS services at a loss.
"So like any other business – staffing costs, material costs, etc. – all those kinds of things are going up and up and the NHS funding that's been coming in to fund that work, just hasn't been keeping up," said Ms Waite.
"It's now getting to the point where there are some items that dentists are delivering on the NHS that funding doesn't cover at all, and they're providing those services at a loss – things like dentures and services that require laboratory work."
The Scottish Government has been engaging with the dental sector, and has promised to implement a new funding model by October. However, dentists were supposed to be informed of the new model in April, which is no longer happening, leading to fears the funding revamp might also be pushed back – a delay some dental practices can scarcely afford.
On March 20, then-public health minister Maree Todd wrote to NHS dental teams to inform them of the pause. The letter reads: "As you will be aware the Cabinet Secretary for Health and Social Care issued a letter on 6 February 2023 that set out the roadmap around payment system reform for NHS dentistry.
"This letter references the Scottish Government's intention to showcase the revised SDR [Statement of Dental Remuneration], including fees, over the course of April.
"I wanted to advise you that this timeline has been necessarily delayed by the process underway to replace the First Minister.
"Decisions informing any financial negotiation with BDA about the final fees and the patient charge are required to be taken after the First Minister transition process has been completed and we will confirm the negotiation period and new showcase date as soon as possible.
"I can confirm that the 'bridging' payments remain in place until 31 October 2023 to ensure implementation of the reformed SDR at that point and officials stand ready to support dialogue and negotiations with the sector."
A spokesperson for the Scottish Government confirmed that the intention is to confirm the new showcase date as soon as possible, and that the overall implementation timeline remains unaffected.
However, the delay in announcing the new payment structure has caused concern at the BDA.
"Dentists and dental teams are working incredibly hard to support their NHS patients," said Ms Waite, "but some of these centres and practice owners are having to make difficult decisions about whether or not there's enough funding to continue the work that they've been doing within the NHS.
"And really, the Scottish Government has an opportunity here - and that's what we've been saying at the BDA - to retain those dentists in the NHS.
"If they get this new funding model in place they can improve this. There is the opportunity for dentists to maybe stay in the NHS and maybe not leave, if this funding model is delivered."
Earlier this month, the BDA warned that the future of NHS dentistry in Scotland is in doubt, and "action must be high on the agenda for the next First Minister", as a survey carried out by the organisation found more than half of Scottish dentists have already reduced the amount of NHS work they undertake.
The survey revealed 59 per cent have reduced their NHS work, but more than four in five (83 per cent) said they are planning to reduce NHS work within the next year.
Meanwhile, just one in five (21 per cent) of dentists say their practice has returned to pre-pandemic capacity, with a majority (61 per cent) citing recruitment problems as an issue.
David McColl, chair of the BDA's Scottish Dental Practice Committee, said: "Behind hollow boasts on record workforce numbers is a service that is hollowing out.
"The majority of dentists have pared down their NHS work, and many more are set to follow. It's an exodus that's going untracked by government but is the inevitable result of working to a broken system.
"NHS dentistry's survival requires rapid action, with meaningful reform and sustainable funding.
"The steps taken in the next First Minister's first hundred days will determine whether this service will have a future."
Ms Waite said the majority of NHS dentists in Scotland want to remain within the healthcare system, but the model needs to be sustainable for them to keep their practices open.
"The vast majority of dentists are committed to NHS dentistry in Scotland," said Ms Waite, "and if the funding is right, people want to continue to do that.
"But there comes a point where if the funding doesn't sustain those businesses, then they can't say they'll continue.
"They are contractors. They have businesses that need to have funding appropriate to allow them to pay the staff that work there, buy the material, and all the running costs associated - and if the NHS funding isn't doing that then they have to look at their income stream.
"But – there are lots of patients in Scotland who may not be able to afford private dentistry, and we will potentially see inequalities widening, and that's the other point that we've made that we want NHS patients to be able to access NHS dentistry too. But the funding model has to be there to allow the dentist to be retained within the system to deliver that."
The 2022 British Social Attitudes survey – which included a proportionate percentage of Scottish respondents – found 42 per cent of UK residents are dissatisfied with NHS dentistry.
Comments
 0 comments
Want to join the conversation? Please or to comment on this article.