Edinburgh University study re-launched into stroke treatment to prevent dementia
An Edinburgh University study has been relaunched into treatments which could prevent some cases of dementia after a stroke.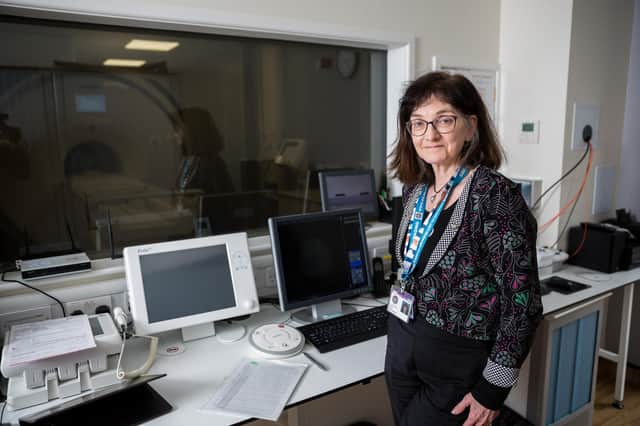 The LACI-2 trial funded by the British Heart Foundation (BHF) will be the second-largest study ever into lacunar strokes, which account for around a quarter of all strokes.
Research suggests they could also be the underlying cause of nearly half of all dementias.
The study, which has been re-launched after pausing due to Covid-19, will look at whether cheap, existing drugs could be used to treat patients after lacunar strokes.
Ian Reynolds, 55, from Edinburgh, is one of more than 200 people taking part in the trial. He had a lacunar stroke in July this year.
"I am determined not to let it get to me," he said.
"I have too much to live for and I am too young to let this affect me. When they asked me if I wanted to take part in the trials, I didn't hesitate.
"It's only through research that we will learn more and if taking part in this helps other people, then that's the most important thing."
Professor Joanna Wardlaw from Edinburgh University is leading the trial, which is expected to take around five years to complete and involves teams from a number of universities and hospitals in the UK.
It will look at whether two drugs - cilostazol and isosorbide mononitrate - used to treat other diseases of the heart and circulatory system may help patients who have experienced a lacunar stroke.
"Lacunar stroke is quite a mild type of stroke, it often doesn't need the patient to go into hospital, they can often be managed as an outpatient or are only in hospital for a very short time," said Prof Wardlaw.
"But the cognitive consequences are quite significant and disabilities can build up over time. So although it's a mild type of stroke, it's actually quite important long term.
"It causes about a quarter of all strokes, it's quite common. I think part of the problem is that because it tends to be quite a mild stroke, it's a bit ignored."
She added: "If these drugs work and prevent this type of stroke, and we're also collecting information about cognition, then they might be worth testing in people who haven't had a stroke, but have had memory complaints.
"There's a potential knock-on effect in terms of trying to get at something which slows the progression of Alzheimer's disease or even stops it its tracks, approached through the blood vessels rather than the other approaches which so far have been used and which don't really work very well.
"We have some drugs which slow the disease down a little bit, but they're really not very effective and they certainly don't stop it happening."
Dr Sonya Babu-Narayan, associate medical director at the BHF, said: "There is no cure for vascular dementia and we must support more research to find one. There are currently just a handful of projects being carried out across the world into this devastating disease. The LACI-2 trial is one of them and that's why it is so important."
A message from the Editor:
Thank you for reading this article. We're more reliant on your support than ever as the shift in consumer habits brought about by coronavirus impacts our advertisers.
If you haven't already, please consider supporting our trusted, fact-checked journalism by taking out a digital subscription.
Comments
 0 comments
Want to join the conversation? Please or to comment on this article.