Drug deaths Scotland: Lord Advocate announces drug users at 'safe consumption rooms' will not be prosecuted, sparking conflict with UK Government
Users of 'safe consumption rooms' in Glasgow will not be prosecuted, Scotland's Lord Advocate has announced, teeing up a potential conflict with the UK's Home Office.
A pilot drugs consumption room is poised to be launched for the first time in Scotland after the Lord Advocate announced she would not prosecute users in a ruling that has sparking a looming battle with the UK Government.
Lord Advocate, Dorothy Bain KC, has said it would "not be in the public interest to prosecute drug users for simple possession offences committed within a pilot safer drugs consumption facility".
Her comments come in the wake of increasing calls for a safer drugs consumption facility to be established in Glasgow. However, the UK's Home Office immediately objected to the idea, saying "we have no plans to consider this".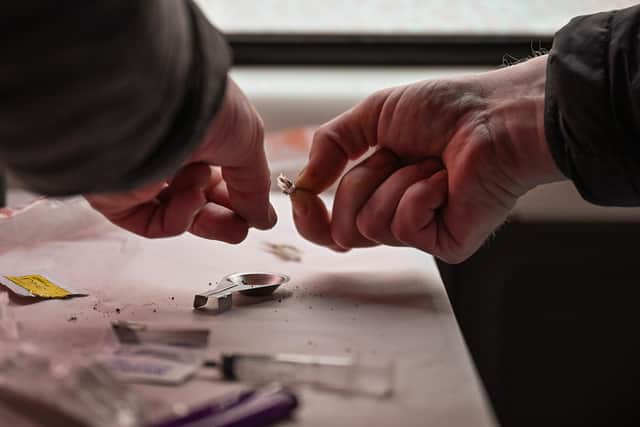 Safe consumption rooms allow drugs such as heroin to be injected under medical supervision, therefore reducing the risks of overdose and infection. A previous attempt to introduce a pilot scheme in Glasgow was blocked by the UK Government.
But Ms Bain's judgement has cleared a significant barrier, allowing the Scottish Government to now work with the Glasgow Health and Social Care Partnership (HSCP) to take forward the project.
Former Lord Advocate James Wolffe had declined to back safe consumption rooms in 2017, saying the issue was a public health matter.
Speaking on Monday, Ms Bain said: "On the basis of the information I have been provided, I would be prepared to publish a prosecution policy that it would not be in the public interest to prosecute drug users for simple possession offences committed within a pilot safer drugs consumption facility.
"I have not been asked to sign-off or approve any facility and it would not be appropriate for me to do so. However, prosecution policy is for me alone to set and this policy, and the consequences which flow from it, have been considered deeply and thoroughly."
Ms Bain said the policy would not extend to "any criminal offences other than possession of controlled substances" and it "does not amount to an exclusion zone whereby a range of criminality is tolerated".
"Police Scotland have operational independence and it has been of the utmost importance to me to ensure that Police Scotland retain the ability to effectively police the facility and ensure that the wider community, those operating the site and those using the facility can be kept safe," she said.
First Minister Humza Yousaf described the statement from the Lord Advocate as "very significant", but said the scale of a pilot would be limited without full Westminster approval.
Speaking during a visit to Stirling, he said: "I welcome this statement that it is not in the public interest to prosecute for simple possession offences in the pilot for safe drug consumption rooms.
"My understanding is we can now move forward with this pilot on the basis of this statement from the Lord Advocate. But there are still some limitations, so it is important we continue to engage with the UK Government and get them to reconsider their ideological objections to giving approval for the pilot.
"I hope they reconsider or give us the power, so we can give this the full approval."
The policy position is the latest placing the Scottish Government directly at odds with the UK Government. Scottish secretary Alister Jack had previously blocked gender reform legislation passed in Scotland using a section 35 order, which will be challenged in court next week, while the planned deposit return scheme was also delayed amid UK Government opposition.
Asked whether he thought the UK Government would block drug consumption rooms in Glasgow in the same way, Mr Yousaf said: "I know there have been a number of issues where they have stepped in and blocked policy, but I really urge them not to do that with something with this level of criticality.
"We are talking about saving lives in one of the most vulnerable groups in society."
Scottish drugs and alcohol policy minister Elena Whitham welcomed the Lord Advocate's announcement, saying: "Glasgow authorities may now progress their proposal to set up a facility which can operate within the existing legal framework.
"While the service would still be limited to some extent, due to the reserved Misuse of Drugs Act, we are confident it would save lives. This is not a silver bullet. But we know from evidence from more than 100 facilities worldwide that safer drug consumption facilities work. It is now time to see this approach piloted in Scotland.
"It's vital this pilot has the full confidence of the general public as well as those who use the facility, and the leadership of Glasgow and Police Scotland will help ensure it is introduced as quickly as possible."
Assistant Chief Constable Gary Ritchie said Police Scotland's approach to any initiative aimed at tackling drug harms "will be to establish how best policing can support it within the confines of the law".
"It is important to note that existing legislation will not be changing and, while we may take an overall supportive policing approach, police officers will still be bound by their legal duty to uphold the law and will not be able to simply ignore acts of criminality which they see occurring," he said.
Scottish Conservative leader Douglas Ross said his party "still have significant reservations about the effectiveness of consumption rooms". But he said "the SNP now have no excuses not to take this action that they have been demanding for so long".
"Scotland has by far the highest drugs-death rate in Europe and this national emergency has spiralled out of control under the SNP," Mr Ross said.
"The Scottish Conservatives are happy for a variety of potential solutions to be looked at, even though we don't think consumption rooms are the silver bullet ministers believe them to be.
"I would urge the SNP to back the Right to Recovery Bill, which focuses on treatment and rehab, and has the backing of experts in the field of addiction and those with lived experience."
Scottish Labour's health spokesperson Jackie Baillie said: "This is a welcome intervention from the Lord Advocate that will help lay the groundwork for the establishment of a safe consumption room in Glasgow.
"Scotland's drug death crisis is a matter of national shame and Scottish Labour believes that drug consumption rooms will help to tackle the number of fatalities and keep people safe. It is welcome to see life-saving progress in this vital area being made without another pointless constitutional battle between Scotland's two failing governments.
"But this is only one part of the fight against drug deaths. We need to see the reversal of years of cuts to drug and alcohol beds to ensure those in need get the help they deserve."
Alex Cole-Hamilton, leader of the Scottish Lib Dems, said: "The Scottish Lib Dems have consistently argued that safe drug consumption rooms are part of the solution, alongside access to medical care and support. International best practice shows that safe consumption is a vital tool to reducing harm.
"While the pilot discussed here may be more limited than what we would like to see in an ideal world, there can now be no excuses from the Scottish Government for failing to push ahead with a trial swiftly and urgently."
He said if the pilot was successful in Glasgow, it should be rolled out to other areas of Scotland like Dundee.
A Home Office spokesperson said: "There is no safe way to take illegal drugs, which devastate lives, ruin families and damage communities and we have no plans to consider this.
"We continue to share learnings from Project ADDER with the Scottish Government and exchange insights from initiatives aimed at addressing drug use. We welcome these ongoing discussions."
Comments
Want to join the conversation? Please or to comment on this article.