Drug deaths Scotland: Consumption room trial in Edinburgh looks set to go ahead
Plans to trial a safer drug consumption room in Edinburgh look set to go ahead after it was confirmed users of one proposed in Glasgow would not be charged.
In a major development this week, Scotland's Lord Advocate said it "would not be in the public interest" to prosecute for simple possession offences.
Westminster followed by saying it would not intervene in plans by Glasgow to open a drug consumption room.
It means proposals for a pilot consumption room in the Scottish capital – previously hampered by legal difficulties – are now far more likely to become a reality, potentially within months.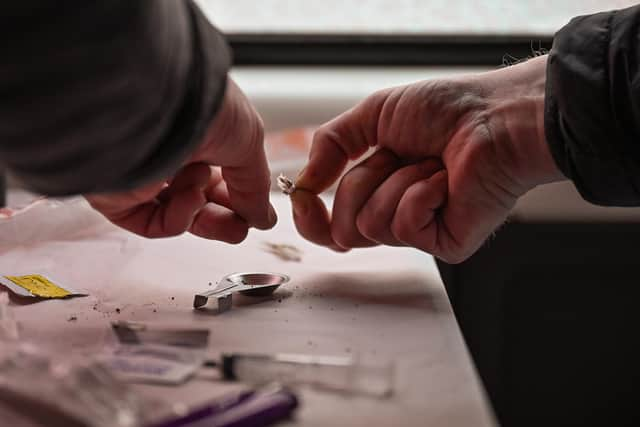 The results of a feasibility study looking into the "local appetite" for such a facility, where one could open and its potential to reduce harm, are set to be presented to councillors later this month.
Councillor Finlay McFarlane, who called for the study to be undertaken, said the Lord Advocate's ruling was a "massive step" forward.
"I would hope we aren't talking too long term about implementation," he said. "That's also for us as politicians to really drive this forward. We need to see that study, take a beat to consider it and what it recommends and then proceed with full speed as far as I'm concerned."
Figures published last month showed whilst drug deaths fell across Scotland last year, they rose slightly in Edinburgh, with 113 recorded – up from 109 the year before.
Those who support opening facilities where people can inject drugs under supervision, also called overdose prevention centres (OPCs), say they have the potential to be life-saving and are essential to tackling Scotland's drug death rate, which remains the highest in Europe. However, critics argue they would encourage drug use and that funding would be better directed toward addiction services.
Ant Lehane, from harm reduction charity Cranstoun, said a typical OPC with seven booths could do around 143 injections a day. "Given that I don't believe anyone's ever died in an OPC before, that's quite a significant number," he said.
Mr Lehane added: "There's three different ways of doing it; you could do it with a vehicle that moves, a semi-permanent location or you could do it in a completely permanent location."
Comments
 0 comments
Want to join the conversation? Please or to comment on this article.