Drop in Scottish life expectancy for third successive year 'a truly sorry reflection of nation's health'
Life expectancy in Scotland has fallen for the third period in a row, which opposition politicians claiming the figures are "a truly sorry reflection of our nation's health"
A drop in Scottish life expectancy for the third year in a row is "a truly sorry reflection of our nation's health", opposition parties have claimed, as a leading charity branded NHS Scotland performance against a key cancer statistic as "unacceptable".
Life expectancy in Scotland has dropped, new figures suggest, with huge disparities in lifespan between richer and poorer areas.
Provisional data released by the National Records of Scotland (NRS) shows male life expectancy was 76.52 years in the period 2020-22. Meanwhile, life expectancy for women was 80.73 years in 2020-22.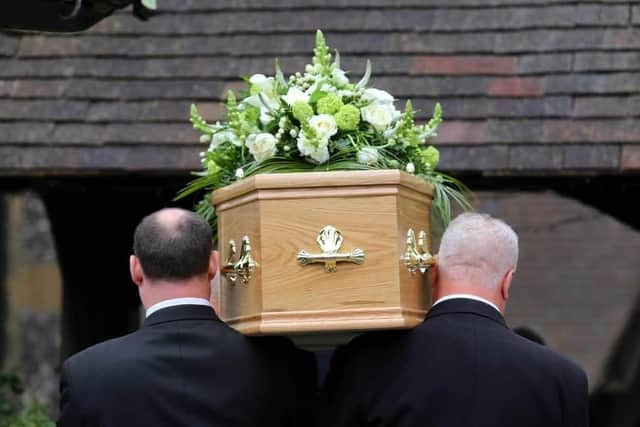 It is the third period in a row that life expectancy for both men and women has fallen in Scotland from the most recent highs of 77.1 and 81.1 in the years 2017-2019, respectively.
Those highs followed six periods of fluctuation for life expectancy during which the highest it reached was 77.10 for men in 2013-2015 and 81.15 for women in 2014-2016.
It comes as "deeply concerning" figures have been published by Public Health Scotland (PHS) showing more than a quarter of cancer patients are waiting longer than the target time to start treatment.
The figures show that between April and June, only 73.7 per cent of those patients referred with an urgent suspicion of cancer started getting treatment within 62 days. Cancer Research UK's public affairs manager in Scotland, Dr Sorcha Hume, said it was "unacceptable" that around one in four cancer patients "aren't being treated quickly enough".
On the fall in life expectancy, Scottish Labour's health spokesperson Jackie Baillie said the "damning figures" proved "SNP and Tory incompetence is costing lives".
"Scots are stuck in twin crises with the cost of living and chaos in our NHS, and it is having a devastating impact on the nation's health," she said.
"After 16 years of the SNP and 13 years of the Tories in government, both parties are failing Scots in the areas where it matters most. [Health secretary] Michael Matheson must act now and take immediate action to ensure that these worrying figures do not become an even more worrying trend.
"Scottish Labour will deliver the change that Scotland needs to increase life expectancy by investing in primary care, investing in public health measures and ending long wait times."
Scottish Liberal Democrat health spokesperson Alex Cole-Hamilton said: "This is a truly sorry reflection of our nation's health. The Scottish Government have made the situation no easier in their mishandling of public health emergencies. That can be seen in decisions to send Covid positive patients into care homes during the pandemic, or a failure to get to grips with Scotland's mental health crisis or choosing to slash drug and alcohol services when deaths were already rising.
"As we look ahead to a difficult winter, ministers must be absolutely focused on supporting and protecting the wellbeing of the people they are here to serve."
Despite the recent drop, male life expectancy is still better than it was 20 years ago, the data suggests, with men now living more than three years longer than they did in 2000-2002.
Female life expectancy has improved at a lesser rate, however, with women only living a little over two years longer on average.
The same provisional data suggests large disparities in life expectancy at birth depending on what council area people live in. For example, male life expectancy at birth in Glasgow City is believed to be far lower than men born in East Dunbartonshire and East Renfrewshire.
Men born in the latter two regions are said to have a life expectancy of 79.9 years while those born in Glasgow City are said to only have a life expectancy of 72.9 – a difference of seven years.
Meanwhile, female life expectancy at birth in places such as East Renfrewshire and the Shetland Isles is believed to be far higher than those women born in West Dunbartonshire and Glasgow City.
Women born in the latter two areas are said to have a life expectancy at birth of 78.4 and 78.2 years respectively, while in East Renfrewshire and Shetlands Isles the values are 84 and 83.7 years – a difference of at least five years in each case.
A Scottish Government spokesperson said: "It remains an unwelcome reality that communities experience health, quality of life and even life expectancy differently across society and the Scottish Government continues to take action to reduce such inequalities in health.
"We work closely with Public Health Scotland and National Records of Scotland to analyse a broad range of data and better understand causes of death and any implications for public health. We are targeting our actions to areas and communities most in need in order to ensure equity in our approach.
"In Glasgow, the Scottish Government is investing £500m through the City Region Deal and regional partners have secured £300,000 Health Foundation funding as part of their work to align economic development and improved health outcomes."
Performance around cancer treatment had meanwhile improved between April and June compared to the previous three months – when only 69.5 per cent of patients started their treatment within the two month target time.
But performance continues to be well below the Scottish Government standard of having 95 per cent of patients starting treatment within such a time following a referral where cancer is suspected.
Dr Hume said: "Despite the tireless efforts of NHS staff, it is clear services are struggling to meet demand. This is a fixable problem and many of the solutions are laid out in Scotland's new cancer strategy.
"Staff shortages is one of the main problems facing cancer services in Scotland. It's crucial the cancer strategy is now fully funded and implemented to ensure cancer patients receive the care they deserve.
"Every cancer target missed is a lost opportunity to save lives. It is essential that waiting times improve in Scotland so people have the best chance of beating cancer."
Her comments came after the latest figures showed 4,299 Scots were referred with an urgent suspicion of cancer over the period April to June – with this up by 1.6 per cent on the previous three month and 15.5 per cent higher than the last three months of 2019.
But none of Scotland's 15 regional health boards achieved the target of having 95 per cent of patients start treatment within 62 days – with 61.8 per cent of patients in the Western Isles beginning treatment in this time.
In NHS Greater Glasgow and Clyde – Scotland's largest health board – 65.2 per cent of patients started treatment within the target time in April to June.
Scottish Conservative shadow health secretary, Dr Sandesh Gulhane, said: "It is utterly shocking that well over a quarter of patients did not start treatment within two months after being diagnosed. Starting treatment as early as possible is crucial to a patient's chances of survival, yet on the SNP's watch, no NHS board in Scotland is meeting this target.
"Everyone knows someone who has been diagnosed with cancer and it is an awful diagnosis for anyone to receive, so ministers must get on top of these figures now. SNP ministers cannot continue to hide behind the Covid pandemic for these awful figures, given they have not met their cancer waiting time target for well over a decade."
A spokesperson for the Scottish Government said it was treating more patients on 62 and 31-day pathways than before the Covid-19 pandemic. The spokesperson said: "It is positive that the 31-day standard was met this quarter with a median wait for treatment of just four days."
Comments
 0 comments
Want to join the conversation? Please or to comment on this article.