Doddie Aid: Over £2m raised for My Name'5 Doddie Foundation as 40,000 take part in Doddie Aid
Almost 40,000 fundraisers have helped raise more than £2M for My Name'5 Doddie Foundation as part of Doddie Aid, which saw participants, running, rowing and bike riding over the course of six weeks to raise money to combat MND.
Organisers have hailed a record-setting Doddie Aid, My Name'5 Doddie Foundation's first major fundraising event following the death of founder Doddie Weir, the Scotland rugby legend and MND campaigner Weir, who died in November last year six years after his MND diagnosis.
The annual mass participation event runs for six weeks from 1 January each year. The 2023 event came to its conclusion when Rob Wainwright and a team of rugby legends completed their journey transporting the match ball for The Doddie Weir Cup – Scotland's Six Nations fixture against Wales – from Cardiff to Murrayfield.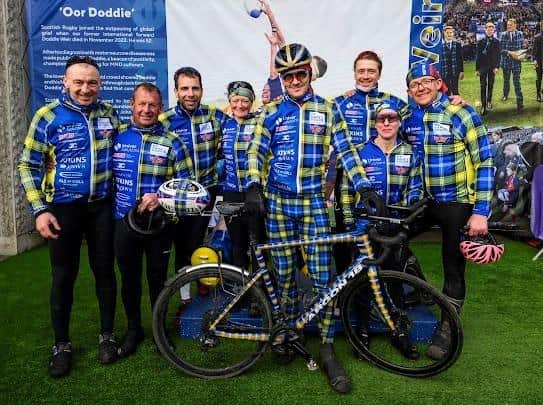 The Doddie Cup 555, as it's known, raised nearly £700K alone.
Rob Wainwright, the former Scotland captain, who was a close friend of Doddie, said: "When we first started to design the event, we never thought it would have this much impact - the way people have rallied around to make this such an incredible fundraiser is beyond our wildest dreams. When we finally end MND, every single person who took part or fundraised will be able to say they played their part.
"But it doesn't stop here. After a short break we'll go straight into planning for Doddie Aid 2024, which we believe can be even bigger."
My Name'5 Doddie Foundation's Director of Fundraising Paul Thompson said: "We are extremely grateful to everyone who has helped to raise this incredible sum of money, which we will be able to commit to ground breaking research into motor neuron disease."It was our first Doddie Aid since Doddie's death, and the response has been immense. What's even more heartening is how many people are planning to do major fundraisers in the months ahead. We won't stop until we've delivered Doddie's legacy of a world free of MND"
Among those who supported this year were Olympians Dame Katherine Grainger and Sir Chris Hoy, actor Ewan McGregor and Ryan Reynolds, musician Lewis Capaldi and television stars Jason Fox and Gabby Logan, as well as a whole host of rugby stars past and present.
Former Scotland rugby star Weir died in November aged 52 after a six-year battle with the disease, with the charity launched in 2017 to boost research into the condition.
His family have vowed to continue their work to help find a cure for motor neurone disease.