Doctors warn of 'impending doom' in hospitals ahead of Hogmanay
Doctors have told of a sense of "impending doom" ahead of the Hogmanay celebrations as hospitals already at capacity are put under even more strain.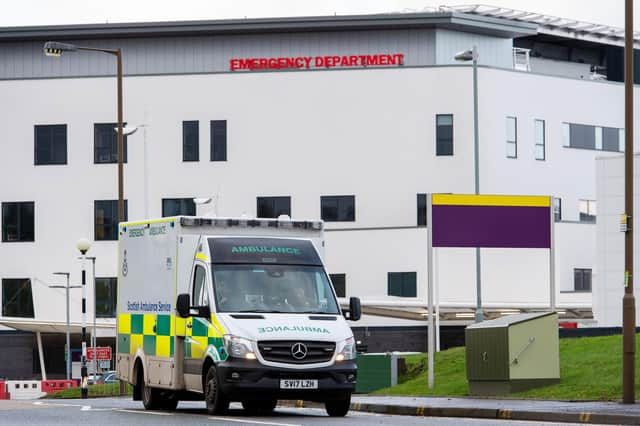 NHS Lothian said yesterday that the Royal Infirmary of Edinburgh, St John's Hospital, the Western General Hospital and the Royal Hospital for Children and Young People were all at full capacity, amid surging levels of Covid and Respiratory Syncytial Virus (RSV), as well as norovirus.
It issued advice to the public to take "sensible precautions to prevent infection", while also appealing to families to help care for patients well enough to leave hospital.
NHS Grampian meanwhile appealed for all "available staff" to help as it faced an "extreme level of pressure".
It tweeted: "We are asking all staff who are not working - and may be on annual leave - but would be available to work, to contact Site and Capacity as soon as possible. We appreciate this is a big ask, especially this time of year, and greatly appreciate any additional support you can give."
Calum Campbell, Chief Executive, NHS Lothian, said the sector as a whole was already experiencing significant pressures because of an increase in emergency patients and large numbers of delayed discharge patients, before this latest increase in infection rates.
He added: "Our teams across the health and social care system are facing sustained and relentless challenge. The system is under horrendous pressure and the challenges our teams are facing are uncharted.
"We are experiencing more cases of infection – flu, COVID and RSV, as well as norovirus – than ever before."
It came after David Caesar, who served for just under a year as an interim deputy chief medical officer during the Covid-19 pandemic as well as being an emergency medicine consultant at Edinburgh Royal Infirmary, told of having to see patients in the open air.
Dr Caesar said: "We are seeing patients anywhere we can: in corners and corridors, and occasionally the best place for a private discussion with a patient who is well enough is outside the emergency department's front doors.
"I can talk to them in the calm, away from the crowd, and then often send them home."
Writing about the situation seen in his hospital on Thursday, Dr Caesar said it started the day around 300 percent over capacity, with 45 patients still waiting for beds.
He added: "There is a sense of impending doom as the prospect of Hogmanay in the capital looms."
In a bid to free up beds, NHS Lothian has again urged family and friends to take in patients who no longer require treatment and are waiting for a care package to be put in place.
Meanwhile, A&E consultants from NHS Greater Glasgow and Clyde have had a request to declare a major incident declined by health chiefs.
The BBC reported it had seen messages sent from doctors to board bosses, with one message saying: "This is without any doubt the worst shift I've worked, and I've never been more convinced of real patient harm due to overcrowding and exit block."