Dentists complain of 'mixed messages' ahead of return to NHS services
Dental practices are facing "vague" guidelines and "mixed messages" ahead of a return to wider NHS services from November 1, industry leaders have warned.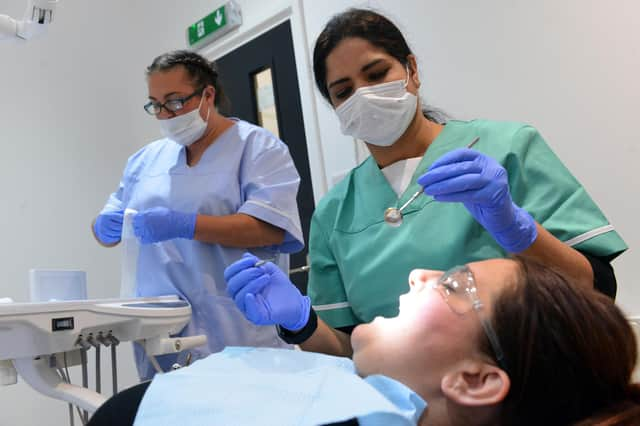 Dentist Kusum Chawla with dental nurse Jayde Williamson. Picture: Stu Norton
From November 1 practices across Scotland will be able to return to offering services other than just urgent and emergency appointments.
But several industry leaders have warned that dentists have not received sufficient guidance ahead of the change, and workers at several practices said they "did not know" if any change would actually be implemented from November 1.
The British Dental Association (BDA) warned of "mixed messages" to dentists.
Chair of the Dental Practice Committee David McColl said: "The return of a "full service" has left practices across Scotland with more questions than answers.
"Dentists now face information overload, drowning in documentation from different agencies, packed with mixed messages. We are looking to government for support and clear guidance on how this service can stay afloat."
He added: "The Scottish Government is making the right noises, but we need every Health Board onside to prevent practices from being overwhelmed. Dentistry remains a skeleton service and urgent and high-risk cases need to be at the front of the queue."
The Royal College of Surgeons of Edinburgh (RCSE) Faculty of Dental Surgery also warned of a "lack of clarity" from the Scottish Government.
Dean of the Faculty Professor Phil Taylor said: "There has been a lack of clarity from the Scottish Government regarding what the changes in restrictions for NHS dental services will mean for both patients and professionals."
Both the BDA and RCSE also warned that patients' expectations would need to be managed, and that due to enhanced cleaning regimes dental practices would not be able to see patients on the same scale as before lockdown.
The Scottish Dental Association, a group set up in July 2020 to represent dentists, said the next few months will require "common sense on all sides".
"We've been given some guidance but a lot of it is down to our own moral compasses," said interim committee chair Douglas Thain, adding: "The profession knew about [the change in guidance from November 1] via social media, and that was when we got confirmation that this was going to happen. And the release of more detail than that came to us just on Monday this week."
He added: "The Chief Dental Officer hasn't been unsupportive, it just seems as though it hasn't been as well organised as it could be."
A Scottish Government spokesperson said: "We have been very clear with dentists in describing the route map. We have liaised with the representative body for dentists on a weekly basis during the pandemic. Throughout the remobilisation of NHS dental services we have said that each phase will be informed by clinical evidence.
"That evidence has now been made available allowing dentists and dental teams to provide a more normalised range of NHS care and has been incorporated into the recently revised infection prevention control guidance and standard operating procedures documents specific to dental practices.
"We understand this is not business as usual and our public-facing exercise in the coming weeks will help inform patients of the latest measures in place. We have also issued guidance to dentists."
A message from the Editor:
Thank you for reading this article. We're more reliant on your support than ever as the shift in consumer habits brought about by coronavirus impacts our advertisers.
If you haven't already, please consider supporting our trusted, fact-checked journalism by taking out a digital subscription.