Dentist waiting times Scotland: The health boards with the biggest dental waiting times in Scotland
Figures released via Freedom of Information requests have laid bare the crisis in Scottish dentistry, with some patients facing waits of up to a year for treatment
Figures have revealed a crisis unfolding in Scottish dentistry, with Scots in some regions of the country facing average waits of nearly a year for dental surgery.
Public Health Scotland figures show there were more than 850,000 fewer NHS dental claims in the first half of this year, compared to the same period in 2019, equating to a 30 per cent drop. This is despite data obtained via Freedom of Information (FOI) requests showing demand has skyrocketed.
An FOI procured by the Scottish Labour Party found calls to NHS24 regarding oral and dental health increased from 25,509 in 2018/19 to 67,189 in 2022/23.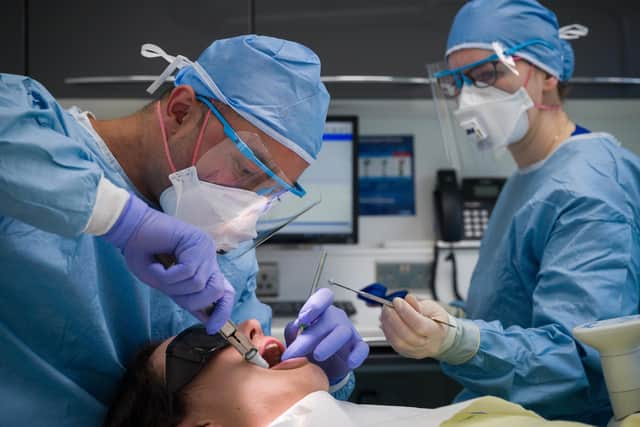 However, it is not clear how many calls to NHS24 are from registered patients looking to access out of hours, rather than emergency care requests or issues with registration.
The waiting times data, broken down by health board, shows waits are increasing at different paces across the country.
NHS Grampian has the longest waiting times for oral and maxillofacial surgery, with an average wait so far this financial year of 51 weeks, up from 22 weeks in 2019 – an increase of 132 per cent.
However, the largest increase in waiting times has been seen in NHS Lanarkshire, where waits for wait for public dental surgery have increased by 780 per cent, from an average of five weeks in 2019/20, to 44 weeks in 2022/23.
The lowest average wait for dental treatment in Scotland appears to be in NHS Tayside, which in 2022/23 recorded an average waiting time of 9.7 weeks. The Scottish Government recently announced that dental check-ups for healthy people will be pushed back from every six months to between 12 and 24 months.
Scottish Labour said this decision, which could lead to oral health issues going undetected for longer, "is nothing more than a desperate attempt to shift the goalposts and massage the figures".
The British Dental Association (BDA) said it has been "seeking a break from the discredited high volume/low margin model" NHS dentistry works to, "which had left the service facing an uncertain future, and some practices delivering some NHS treatments at a financial loss".
Dentistry chiefs are hoping the Scottish Government's new dental payment system will halt the loss of NHS dentistry in Scotland, but patients can expect costs to rise.
From November 1, the way dentists are reimbursed for their services by the NHS will change, in a bid to address the immense financial pressures practitioners are facing post-pandemic. Earlier this year, a survey carried out by the BDA found more than half of Scottish dentists have already reduced the amount of NHS work they undertake.
The survey revealed 59 per cent have reduced their NHS work, but 83 per cent said they were planning to reduce NHS work within the next year. Meanwhile, just one in five (21 per cent) of dentists said their practice has returned to pre-pandemic capacity, with a majority (61 per cent) citing recruitment problems as an issue.
The BDA said while it had "secured some improvements", the changes "do not change the fundamental model of care".
David McColl, chair of the BDA's Scottish Dental Practice Committee, said these changes "reflect the choices made by the Scottish Government". "NHS dentistry in Scotland needed to be brought into the 21st century, with a clear focus on prevention, underpinned by sustainable investment," he said.
"Ministers decided to stick with an outdated model of care, with fixes paid for with higher charges and less frequent appointments. Time will tell if this will be enough to bring NHS dentistry back from the brink."
Scottish Labour MSP Paul Sweeney said dental care in Scotland was "deep in crisis", with thousands going without care and those with the funds being pushed into the hands of private practice.
"Faced with this crisis, the SNP has decided to shift the goalposts in a desperate attempt to massage the figures," he said. "All this will do is increase the risk of poor oral health in Scotland and increase health inequality.
"By increasing the time between check-ups, all we will see is people presenting later and with more issues. It is vital that every effort is made to incentivise dental practices to take on more NHS patients – he agreement in place is simply not good enough.
"The people of Scotland need a fully functioning dental service that is accessible to all. The very existence of NHS dental treatment is on the line – it is time for action."
A spokesperson for the Scottish Government said: "Nobody will have reduced access to dental examinations if they need them. Under the new system, alongside provision of an extended exam every 12 months, dentists can use their clinical discretion to recommend shorter recall frequencies if this is appropriate based on their assessment of the patient's oral health.
"Official statistics show that since the start of the Covid pandemic there has been a significantly improving picture in NHS dentistry, with nearly 3.8 million courses of treatment completed in 2022/23. That is hugely welcoming, especially given the significant disruption to dental care at the height of the pandemic due to infection prevention and control measures to protect staff and patients.
"Payment reform builds on the objective set out in the First Minister's Policy Prospectus, published earlier this year, to improve patient access by incentivising dentists to remain in the NHS and provider longer-term sustainability to the sector."
Comments
 0 comments
Want to join the conversation? Please or to comment on this article.