It comes as lockdown restrictions in Scotland ease further on Monday, with hairdressers and non-essential retail allowed to reopen. Garden centres, car showrooms, and homeware stores can also open from Monday, while more university and college students can return to campus, and contact sports can resume for 11 to 17 year olds.
The rapid Covid-19 tests – which give results in half an hour – will be available to everyone in England, even without symptoms of the virus, from Friday, the UK Government said.
People will be able to obtain a test through a home ordering service, workplace or school testing programme, or by collecting one at a local test site. A new "pharmacy collect" service will allow anyone over 18 without symptoms of Covid-19 to visit a participating pharmacy and collect a box of seven rapid tests to use twice a week at home.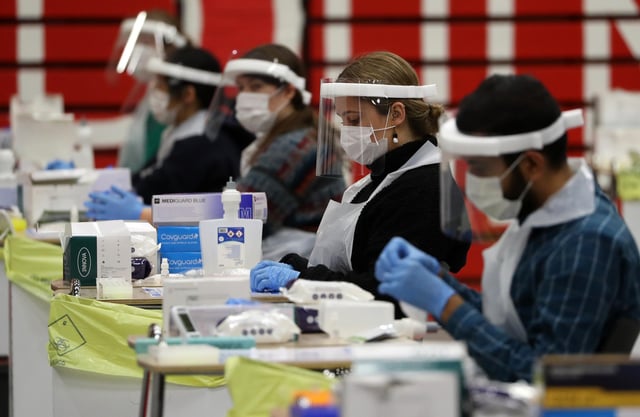 People carry out asymptomatic testing using lateral flow antigen at a test centre at Edinburgh University ahead of students being allowed to travel home for the Christmas holidays.
Yesterday, it emerged the UK Government is set to announce a trial of vaccine certificates to gain access to sporting and entertainment events in England. The Scottish Government does not currently have plans for a similar trial as "ethical" questions remain.
Scottish Labour has now called for the same offer of widespread testing to be rolled out north of the border.
"Today many Scots will head to get a haircut or go to a garden centre - and they will know that these newly returned freedoms are the result of the dedication of our NHS, care staff and vaccinators," said Scottish Labour's deputy leader and health spokesperson Jackie Baillie.
"But they will be at risk if we do not have the tools to break transmission chains and suppress infections.
"The WHO said the key to tackling Covid was test, test, test. In response the SNP has been slow, slow, slow. Scotland needs the same access to twice weekly mass testing as we will now see in England - and the Scottish Government is responsible for the failure to deliver it.
"This is just another area where Nicola Sturgeon's government has fallen short."
Prime Minister Boris Johnson said the tests would help stop Covid-19 outbreaks "in their tracks" in England.
He said: "As we continue to make good progress on our vaccine programme and with our road map to cautiously easing restrictions under way, regular rapid testing is even more important to make sure those efforts are not wasted."
Lateral flow testing, though less accurate than the alternative PCR testing, is considered an especially useful measure when done regularly.
An SNP spokesperson said: "We use lateral flow in key settings like health care, schools and colleges and workplaces where people are likely to catch Covid. We are currently looking at options to further roll out lateral flow testing."However, it must be stressed that lateral flow tests are not a magic bullet and can never be treated as a replacement for following the rules of F.A.C.T.S. and keeping each other safe."
The rapid tests are currently offered twice a week to health and social care workers, as well as teachers and older pupils.
The trial of vaccine vaccine certificates in England, meanwhile, is set to inform a more widespread form of vaccine passports.
Events in the trial will include the FA Cup semi-final at Wembley on April 17, the World Snooker Championship at the Crucible Theatre in Sheffield, and a mass participation run at Hatfield House on April 24 and 25.
The pilots will culminate with the FA Cup Final, again at Wembley, on May 15.
However the move is likely to prove controversial with many MPs deeply concerned about the implications for civil liberties of requiring people to prove whether they are clear of the disease in order to attend certain events.
Asked if the Scottish Government is planning a similar trial in Scotland, a spokesperson said the issue was under consideration but questions remain.
"We recognise the potential of vaccine certification for international travel as part of global arrangements, however there are ethical and equity questions to be answered as part of considering using vaccine certification for access to places people visit as part of their everyday lives," the spokesperson said.
Scottish Liberal Democrat Leader Willie Rennie warned on Sunday that vaccine passports could pave the way for a "permanent ID card".
Mr Rennie said: "This is super ID cards by the back door. Vaccine passports will divide the country, effectively make vaccination compulsory and pave the way for a permanent ID card.
"Liberal Democrats oppose the use of vaccine passports for accessing public spaces, services and events. The best way to keep our country safe is suppress the community spread of the virus by vaccinating almost everyone."
First Minister Nicola Sturgeon said on Saturday that a trial of vaccine certificates in Scotland was "possible".
"I think as all of us desperately want to get back to normal we should absolutely not close our minds to anything that might have a part to play in that," she told Radio Forth.
"There are big equity and ethical questions - not everybody can be vaccinated, because of some health reasons, younger people at the moment are not currently in the vaccine programme, the vaccines are not authorised for younger people yet.
"We've got to be clear about the basis on which we are doing this, and be able to answer some of those questions."
A message from the Editor:
Thank you for reading this article. We're more reliant on your support than ever as the shift in consumer habits brought about by coronavirus impacts our advertisers.
If you haven't already, please consider supporting our trusted, fact-checked journalism by taking out a digital subscription.