Covid Scotland: Lawyer Aamer Anwar calls for return to masks in hospitals and free tests amid 'dangerous feeling of deja vu' as Pirola strain spreads
A lawyer for a group of Scotland's Covid-19 victims has called for a return to masks in hospitals and free tests amid a wave of new infections.
Aamer Anwar, lead lawyer for the Scottish Covid Bereaved group, said Scotland faced a "dangerous feeling of déjà vu" as a new wave of infections hits the country due to the latest Covid-19 strain.
In a letter sent to First Minister Humza Yousaf, first published by the Mail on Sunday, the human rights lawyer called on the Government to take action to prevent further Covid-19 deaths.
The letter focused on the dangers presented by Pirola – a mutation of the Omicron variant, which led to higher death tolls from Covid-19 during late 2021 to 2022.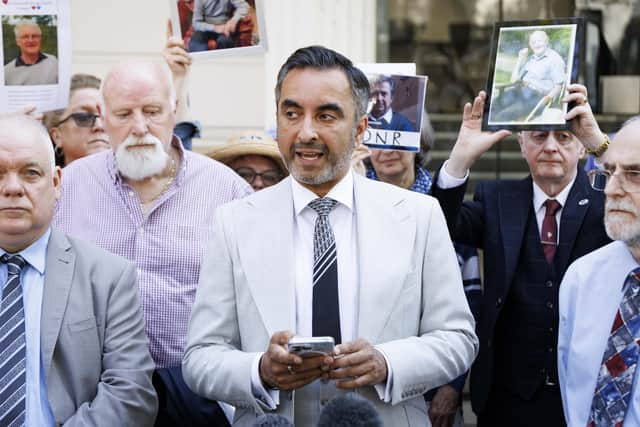 Mr Anwar wrote: "My clients have asked me to write to you as they are fearful that the same mistakes are being repeated despite hindsight. As we enter autumn, there is a dangerous feeling of déjà vu."
The Scottish Government are offering vaccination boosters to people above the age of 65 before winter sets in at the end of this year.
Mr Anwar noted that due to a cut-back in monitoring of the pandemic in spring, it was unclear how widely the new Pirola variant was spreading, as he suggested there were fears of a new wave of deaths and infections.
He urged the Government to restore a mask mandate in Scottish hospitals, which was dropped in May, arguing the "sickest and poorest" were the most at risk of the variant.
"Covid-19 is not an equal-opportunities virus, so it is in your hands to ensure that the poor, vulnerable and minorities do not face the disproportionate toll of the virus once again," he wrote.
The Scottish Covid Bereaved group has heavily criticised the Scottish Government's 'slow' inquiry into deaths suffered during the pandemic. The inquiry is being chaired by Lord Brailsford and opened last month with a preliminary hearing.
The inquiry aims to "arrive at the facts, identify any lessons that need be learned, and make recommendations to Scottish ministers as soon as is practicable so we are better prepared in the event of any future pandemic".
Mr Anwar raised concerns as a commission recommended to the UK Government that an annual national day of reflection should be held and schoolchildren must be taught about people's experiences in the pandemic.
The UK Commission on Covid Commemoration was launched last year to look at how best the pandemic should be remembered across the country.
In its final report, published on Monday, it made ten recommendations, including identifying green spaces across the UK for use as Covid memorial spaces.
Commission chairwoman Baroness Nicky Morgan said the recommendations were intended to ensure "the loved ones we have lost and the sacrifices made by so many during the pandemic will be remembered for years to come".
She said the pandemic "changed the lives of everyone across the UK and its impact is still felt very deeply", adding it was "so important that we don't let this vitally important period in our history be forgotten".
As well as a UK-wide day of reflection to be held each year, the commission has also suggested a new symbol could be created, supported by bereaved families and those still affected by Covid, to represent the pandemic.
The National Covid Memorial Wall in London should be preserved and "other existing initiatives should be valued and recognised for the important role they play in supporting bereaved families and those seeking a tranquil space for reflection", the commission said.
Comments
 0 comments
Want to join the conversation? Please or to comment on this article.