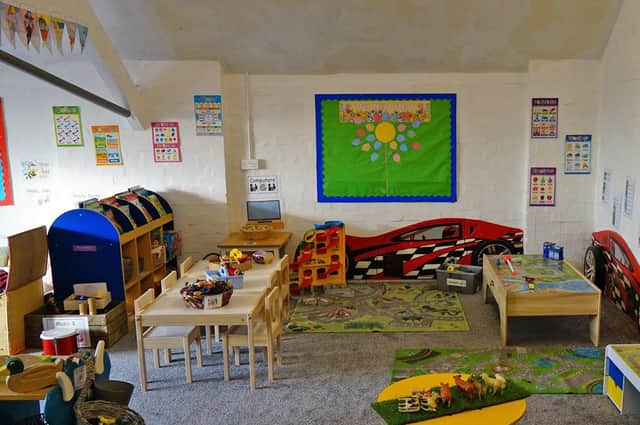 Since early January 2021, there has been an increase in speech, language and communication (SLC) developmental concerns recorded at health reviews for children aged 13-15 months, and 27-30 months compared to pre-pandemic levels, Public Health Scotland said on Thursday. Health researchers blamed lockdowns, and said it is "likely that the public health restrictions experienced by children in the critical early years have contributed to the increases in SLC developmental concerns that have been observed since early 2021".
Glenn Carter, head of the Royal College of Speech and Language Therapists (RCSLT) in Scotland, said the findings add to the "mounting evidence of the spoken language crisis we currently face in Scotland".
He said: "We recently shared our own findings that almost 90% of practitioners in early years settings are seeing a rise in the number of young children experiencing speech, language and communication difficulties since the start of the pandemic. We are now seeing this claim backed up by Public Health Scotland's health visitor data, with the largest increase in concerns recorded at two years old - a crucial milestone in speech and language development."
Report authors said that since January 2021, the percentage of children with new or previous SLC developmental concerns recorded at both the 13-15-month age bracket, and the 27-30-month range has consistently been above the pre-pandemic average. Researchers said there are "increases in recorded concerns at the 27-30-month review in emotional/behavioural, personal/social and problem-solving domains since early 2021".
Another health review is done on children aged four to five, and while they did not yet have data for concerns raised in that review, the report said "preliminary analysis of available data for this period suggests that there has also been an increase in the percentage of children with SLC development concerns" since early 2021.
Mr Carter said: "Having good spoken language is central to children's literacy and numeracy skills in their academic attainment, however, the longer-term impact on mental health, employment and life outcomes is equally important. We must consider this a public health issue and recognise that joint working across health, education and local government will be required to find a sustainable solution."
It was not just Scotland or the rest of the UK where declines in communication had been analysed, the report found. The Public Health Scotland report made a number of recommendations, which include developing a national delivery plan, providing parents and teachers with tools to identify speech and language difficulties, and putting in place a strategy to make sure there are enough speech therapists to meet the higher demand for expert support.
Children's minister Clare Haughey said: "We want to ensure that every child has the best possible start in life and that is why we will consider the findings of this report to better understand how we can improve speech and language outcomes for children. Scotland is the only part of the UK to offer the equivalent of 1,140 hours of funded early learning and childcare to all eligible children regardless of their parents' working status, putting families and children first. That includes all three and four-year-olds and around a quarter of two-year-olds."