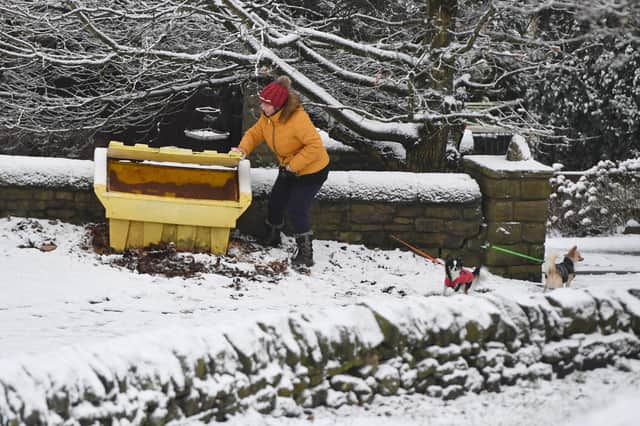 Empty: City residents have suffered situations similar to this
New figures show that between December 1 2020 and January 15 2021, the council received 1,852 requests to refill grit bins - of which 896 'were identified with a specific grit bin reference to allow the request to be formally recorded and tracked'.
Of those 896 requests, only 51 per cent (460) were fulfilled within seven days, 33 per cent (297) within 14 days and 13 per cent (121) within 21 days - with 18 requests still left outstanding.
The figures were revealed at a full meeting of Edinburgh City Council today, following a question by Liberal Democrat councillor Kevin Lang, who represents Almond.
An 'impossible question to answer' - Councillor Lesley Macinnes
Broken down by region, the figures also reveal that the outer lying areas of the capital - Almond, Colinton/Fairmilehead, and Pentland Hills, submit the most requests for grit bin refills.
In a follow up question, councillor Lang asked the SNP convener of the transport committee, Lesley Macinnes, what she believes is the 'maximum reasonable time' people should wait to have their grit bin refilled.
Councillor Macinnes, who represents Liberton and Gilmerton, said: "I think this is almost an impossible question to answer. If I got my way, then the minute we got a request in from a resident of the city, within the hour they would have a refilled grit bin.
"But given that we have 3,000 grit bins across the city, and that we also get requests for grit bins that are not outs to replenish, because they're in developments, and on private land, and so on, it would be almost impossible for us to achieve that.
"In terms of the length of time, in order to fulfil all of our grit bins - if we were going on a weekly replenishment - it would take ten squads seven days to get round all of them.
"These are the kind of things we're dealing with alongside very unsure weather conditions, so it's a rolling system we've got - trying to respond to individual requests, with making sure that along with every bin that is complained about its neighbouring bins are also sorted."
The Met Office has issued warning for snow which will come into force at 6pm tonight.
Forecasters have warned that the bad weather may cause significant travel disruption including long delays and cancellations on bus, rail and air travel.
Speaking after the meeting, councillor Lang said: "It is unacceptable that so many communities have been left stranded with icy roads, dangerous pavements and empty grit bins over the last few months.
"I have heard first-hand from people who have fallen and suffered injuries, putting pressure onto our NHS at a time when it is already under huge strain.
"At the very least, the council should be helping communities by keeping local grit bins full.
"However, these new figures show it is taking weeks for the council to refill empty grit bins.
"It shows how the current winter resilience policy is simply unfit for purpose and needs to be reviewed, including robust response time targets.
"People clearly deserve better than the service they are currently getting".
A message from the Editor:
Thank you for reading this article. We're more reliant on your support than ever as the shift in consumer habits brought about by coronavirus impacts our advertisers.
If you haven't already, please consider supporting our trusted, fact-checked journalism by taking out a digital subscription.