Will Nicola Sturgeon's pandemic performance affect this year's Holyrood elections? Scotsman readers have their say
A recent exclusive Scotsman poll showed that Nicola Sturgeon's leadership appears to be driving people towards the SNP.
The First Minister has been under intense scrutiny during the pandemic and the party's supporters hope that her performace will translate into votes at the ballot box.
We asked how you thought her handling of the crisis might affect the election, scheduled to take place in May.
Heather Henderson echoed the view of many independence supporters in praising how Nicola Sturgeon has handled the crisis: "I think that she is doing an amazing job under very difficult circumstances and she can't please everyone all the time. I will still be voting for the SNP again this year and my answer will always be 'yes' for independence for Scotland."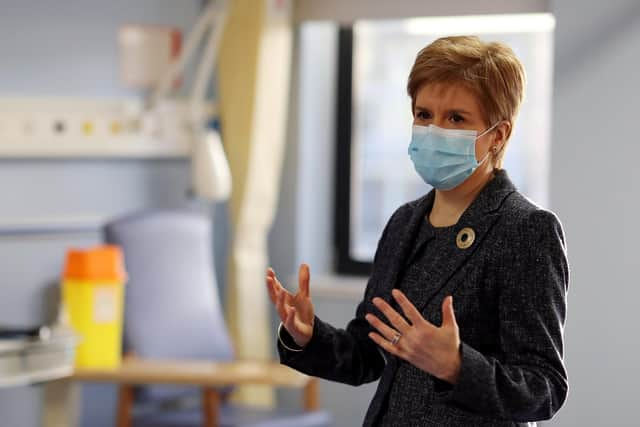 Tony Bittner-Collins agreed, particularly when it comes to the politically-controvertial daily briefings: "She's done a good job so far. I watch the Covid briefings on the telly every day and they're very informative. My husband, family, friends, and I will be voting for her and the SNP in May."
But the daily television appearances have been a turn-off for Andrew Forrester: "Why do you think she stands there daily? She's been using it as an election platform from the beginning. No other politician is being given the publicity she demands for her own agenda."
Meanwhile, David White thinks people forget how difficult it must be to made unpopular announcements: "Those who accuse her of 'daily propaganda' forget that it's rarely good news, and of course risks putting people off her or her party. She's just doing her ministerial duty."
Several people, including Eric Fould, believe that the pandemic has meant other issues have been ignored: "She has presented herself well which has attracted some to her. However if you look deeper into the running of Scotland in general it is a mess. This should be highlighted more in the run up to the May elections. The general state of Scotland is more important than someone who presents herself well and has failed in many other issues."
John Dowson is also unlikely to be voting SNP: "She daily drives me, and many others, away from the SNP. The SNP is now a one person party. The cult of the individual has taken over. We need to learn from history. The future of Scotland must lie with a more democratic shared leadership."
There are also those who think few voters will have changed their minds in the last 10 months, with Alan Gracie commenting: "Those who cannot stand the SNP anyway will vote for someone else and those who who do think the SNP have done well will vote for them. Personally I don't think she has done that badly, but to be honest no one in the United Kingdom has acquitted themselves in glory."
Owen Proudfoot would seem to be a case in point: "I'd vote for her. Anything to get away from the terrible terrifying trouble-causing Tories."
The opposition parties were also highlighted as being less than effective by Derek Patterson: A good government needs a good strong opposition to function properly otherwise you end up with a dictatorship. Unfortunately the opposition in Holyrood is embarrassingly poor."
Although Duncan Croal thought it could all be a moot point for the forseeable future: "Will they not have to postpone it for 6 months until everyone is vaccinated?"
Comments
 0 comments
Want to join the conversation? Please or to comment on this article.