Who owns Pfizer and BioNTech? What you need to know about the covid vaccine manufacturers - and where the vaccine is being produced
Doses of the Pfizer Covid-19 vaccine are already on the way to the UK, a senior official from the pharmaceutical company has said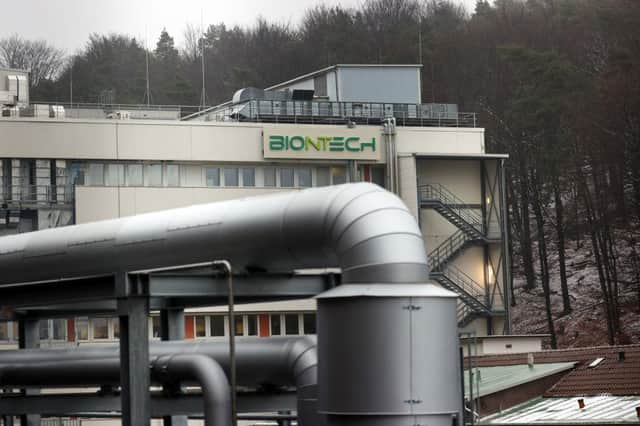 The jab has a 95% efficacy against the disease and is suitable for all age groups, with care home residents to be the first to receive the vaccination.
Around 10 million doses are expected to be available for use in the UK in the coming weeks for priority groups, including healthcare workers, with 800,000 doses arriving next week.
Though citizens of the UK will be the first to receive the vaccine, the product was developed abroad.
Hearquartered in the United States, Pfizer is a publicly traded company, the largest shareholders of which are mutual funds.
The Vanguard Group, Inc. is the pharmaceutical company's highest shareholder, holding a 7.6% stake of the company.
Pfizer's top ten shareholders are mutual funds and are as follows:
SSgA Funds Management, Inc.
Capital Research & Management Co.
Wellington Management Co. LLP
Geode Capital Management LLC
Northern Trust Investments, Inc.
Norges Bank Investment Management
State Farm Investment Management
BlackRock Investment Management
Greek Albert Bourla is the chairman and CEO of Pfizer. He was criticised following the vaccine's successful trial period when he sold $5.6m of his stake in the company after the share price rose by 7%.
Based in Mainz, Germany, BioNTech is listed on the US stock exchange.
Like Pfizer its owners are predominantly mutual funds and other institutional stakeholders, with the largest shareholder owning under 1% of the company.
The top ten shareholders are as follows, according to CNN:
Fidelity Management & Research Co.
Invus Public Equities Advisors LLC
T. Rowe Price Associates, Inc.
Janus Capital Management LLC
Columbia Management Investment Advisers
Wellington Management Co. LLP
Where is the vaccine being produced?
Doses of the vaccine for European countries are being manufactured at a Pfizer site in Belgium.
According to Ben Osborn, Pfizer's UK country manager, deliveries between Belgium and the United Kingdom are already under way.
He said: "As you probably heard from the Secretary of State, Matt Hancock, earlier this morning, the delivery schedule has already been put in place.
"We are delivering right now as we speak from Belgium into the UK, that process has already begun.
"We anticipate that we will be providing some 800,000 doses or so in the coming days, ready for deployment next week by the NHS."