When will weddings resume? Date ceremonies, gatherings and occasions will be allowed in Scotland - and when places of worship will reopen
Many couples due to tie the knot have been forced to cancel or postpone due to the coronavirus lockdown, but plans are now in place for the resumption of ceremonies
The Scottish Government has so far relaxed a number of restrictions as part of its four-phase plan to return to normal life, with several changes to rules due to come into effect from 10 July, as Scotland enters phase three.
But what does it mean for weddings?
When will weddings resume?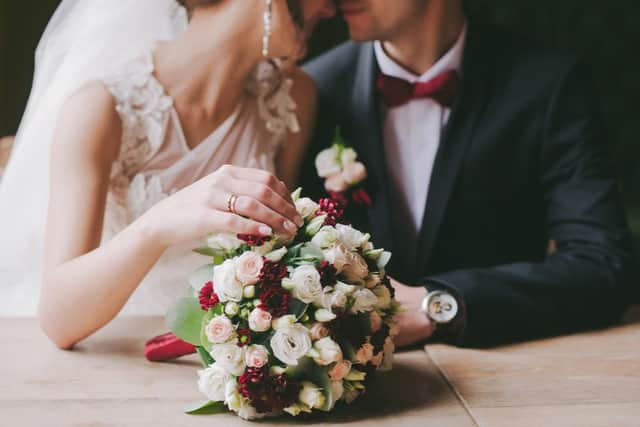 The Scottish Government announced a series of changes to rules following its latest review on 9 July, with First Minister Nicola Sturgeon confirming the country has now entered phase three of its exit plan.
The government previously advised that from 29 June, marriages and civil partnerships can take place, but with minimal attendees and with the ceremony only permitted outdoors.
From 15 July, the First Minister announced that places of worship will be allowed to reopen again for communal prayer and services.
However, there will be restrictions placed on singing and chanting, two-metre social distancing will need to be in place, and attendees will be required to provide their contact details, in the same way as when visiting hospitality venues.
Additionally, Nicola Sturgeon confirmed that restrictions on attendance at weddings, civil partnerships and funerals will also be eased, although these numbers will be "even more limited" than those allowed to return to places of worship more generally.
What other rules will change in phase 3?
With Scotland's journey out of lockdown being done in phases, changes to seeing family and friends, the reopening of businesses, and opening places of worship were among the next restrictions to be eased.
Here are all the key changes for July:
Face coverings will be mandatory in shops.
People can meet up to four other households outdoors, of up to 15 people, while physical distancing.
As for meeting indoors, three households, up to a maximum of eight people, can meet inside while physical distancing, including for overnight stays.
Households are limited to meeting up with four other households in total in one day, indoors or outdoors, but these limits do not apply for people under the age of 18, and couples who live in different households can form an extended household group, including children under 18, without the need for distancing measures. Physical distancing indoors will end for children under the age of 12.
Organised outdoor contact sports for children and young people resume, subject to guidance.
Non-essential shops within shopping centres can reopen.
Non-aerosol routine care dental care will return.
Pregnant women can have a designated person accompany them to ante and post-natal appointments.
Hairdressers and barbers can reopen, along with indoor pubs and restaurants, following guidance and mitigation measures.
Scotland's tourism sector can reopen, including all holiday accommodation.
Museums, galleries, monuments, cinemas and libraries can reopen with precautions in place, such as purchasing tickets in advance.
The childcare sector can fully reopen.
A phased return to campus for universities and colleges can start with physical distancing in place, as part of a blended model with remote teaching.
Personal retail services, including beauticians and tailors, can reopen with enhanced hygiene measures.
Motorcycle instruction and theory tests can resume.