When will over-70s get the Covid vaccine in Scotland? Timeline and priority list for vaccination rollout explained
The Scottish vaccination schedule has been hampered by 'patchy supply' according to leading doctors
As the Scottish Government now move to mass vaccinate elderly people living in the community, over 70s should expect to receive an invite to be vaccinated in the coming days.
On 24 January, the First Minister told BBC's Andrew Marr that Scotland was "on target" to deliver one dose of the vaccination to all priority groups by the Spring - but when can people aged 70 and over expect to receive their first jab?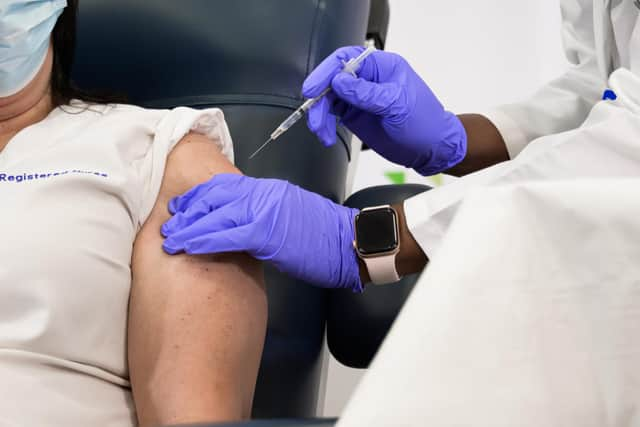 This is what you need to know.
Who is currently being vaccinated in Scotland?
Scotland follows the same priority grouping as the rest of the UK, as advised by the Joint Committee on Vaccination and Immunisation (JCVI).
From 25 January, the NHS in Scotland will be inviting people aged 70 and over to receive the first dose of the vaccine - as the vast majority of those aged 80 and above, care home residents and those working on the frontline in health and social care settings should now have received theirs.
However, those receiving their vaccine invitation in the coming weeks should not expect it to arrive in a blue envelope, as an administration error has resulted in the important letters being sent in standard white envelopes.
This next phase of the vaccination programme will allow the top four priority groups to have a degree of immunity against coronavirus.
Until one week after you have received your second dose – administered 12 weeks after your initial jab – you will not have the greatest amount of immunity.
What is the current vaccination schedule in Scotland?
The first priority in Scotland was to reach those in the 80 and above category – with those in care homes targeted first.
Over 70s and those defined as clinically vulnerable - considered priority groups three and four - will make up the latest cohort of people offered the vaccination en masse.
Health Secretary Jeanne Freeman has said those aged 70 and over will have received their vaccination by mid-February.
By the beginning of March, Ms Freeman has targets to have completed the vaccination of all those aged 65 and over and people who are clinically extremely vulnerable.
This suggests that 1.4 million people will have been administered with their first dose by mid-March.
By early May, all those aged 50 and over as well as all adults aged over 16 who are clinically vulnerable will have received their first jabs, according to government targets.
At present, about 16,000 vaccinations a day are being carried out in Scotland, though this is set to increase as of 18 January.
Why has Scotland not vaccinated the same number of people as England?
The Scottish Government has been quizzed over why it has taken longer to vaccinate people than elsewhere in the UK.
This was originally attributed to "patchy" supplies and inconsistencies across GP practices in Scotland, according to British Medical Association chair in Scotland, Dr Andrew Buist.
He told the BBC's Politics Scotland programme: "The current problem lies with the next priority group, which is the 80-plus group, which GPs in Scotland are set to vaccinate because the supply of the vaccine so far has been quite patchy.
"Some practices have a good supply, some have had none so far."
He added that the inconsistencies in the number of vaccinations arriving at GP practices has resulted in GPs being unable to plan ahead and invite people for their vaccine.
However, Nicola Sturgeon has now defended the Scottish Government's approach – stating that the vaccination of care home resident was more "resource intensive" but the community vaccine programme was now "rapidly catching up".
She told Andrew Marr: "We took a deliberate decision in line with JCVI advice to focus initially on vaccinating older residents of care homes.
"I heard Matt Hancock on the programme earlier say that about three quarters of care home residents in England had been vaccinated, in Scotland that figure right now is 95% of care home residents."
She added: "We're all working to the same targets, overall I think we will see that we all are making good progress through this vaccination programme."
How will Scotland "scale up" their vaccination programme?
British Army soldiers have now being drafted in to help to establish 80 new Covid vaccine centres across Scotland.
There will also be mass vaccination sites set up. These will be located at Aberdeen's Exhibition and Conference Centre, Ravenscraig Sports Facility in Motherwell, Queen Margaret University in Musselburgh and the Edinburgh International Conference Centre.
NHS Louisia Jordan in Glasgow's SECC is already working as a mass vaccination centre.
These centres are set to be open from 8am until 10pm seven days a week, but this could be extended.
Health Secretary Jeane Freeman pledged: "We will have the workforce and the infrastructure to vaccinate 400,000 people each week by the end of February.