When can I travel in Scotland? Date staycations will be allowed after lockdown restrictions are eased
Travel is now permitted throughout Scotland, Wales and England for reasons such as visiting hospitality and accommodation facilities
From 26 April, Scotland will have resumed much of the normality Scots have not seen since December 2020.
Included in the latest easing of restrictions, travel will now be allowed for reasons such as shopping and visiting hospitality.
So, what has the First Minister said about travel restrictions? This is what we know so far.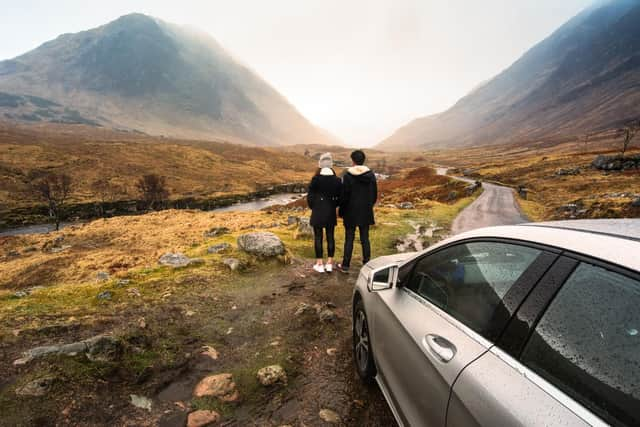 Since early April, people have been able to travel within Scotland for the purpose of outdoor socialising, recreation or informal exercise.
The rules on meeting people outdoors were also relaxed from 16 April and from 26 April, travel restrictions for wider purposes such as leisure, shopping, visiting hospitality premises or staying in tourist accommodation have been permitted.
Hotels and other accommodation facilities also resumed on 26 April.
Sturgeon told the Scottish Parliament in March: "On [26 April], we expect all remaining retail premises to re-open.
"All tourist accommodation will be able to re-open from that date too, subject to any wider restrictions that remain in place, for example, on hospitality.
She continued: "And we expect that the limit on attendance at weddings, funerals and associated receptions will be raised to 50 people from 26 April."
What did she say about easing travel restrictions?
The First Minister has asked that people continue to follow the guidance and do not meet up indoors, as well as adhering to current social distancing rules.
Announcing the easing of travel restrictions on Tuesday (13 April), Sturgeon said: "In summary, from the end of this week, you will be able to meet up with family and friends who live in different parts of the country.
"I know that many of those reunions will be long-awaited and much anticipated but please do remember that at this stage meetings, probably until the middle of May, must still be outdoors and not within our own homes and I would ask everyone to please be careful."
She noted that the outdoor rule will stay in place 'probably until the middle of May.'
Can I travel to other parts of the UK?
Addressing the issue of domestic travel, Sturgeon previously told the Scottish Parliament: "We hope that restrictions on journeys between Scotland and other parts of the UK and the wider common travel area can also be lifted, if not on 26 April, then as soon as possible thereafter.
"However, we need to keep this under review, as part of our efforts to reduce the risk of new cases being imported into Scotland and we will update the position during April.
"Reducing the risk of importing new cases – and new variants - is also directly relevant to the issue of international travel."
What Covid safety rules will continue once travel opens up?
Nicola Sturgeon has disclosed that there will be a tiered approach to easing restrictions, which means rules will still be in place when businesses reopen and could continue when travel resumes.
In the previous tier three restrictions, people in Scotland had to wear face coverings in indoor facilities and on public transport.
There were also social distancing rules in parks and public spaces as well as reduced transport and localised restrictions which meant you couldn't travel into some areas if infection rates were high.
It is expected that many of these restrictions will be reintroduced.
In England there will still be some social distancing requirements until 21 June so it's probable that Scotland could follow suit.
UK ministers will review restrictions on social distancing and other "long-term measures" designed to reduce transmission, including the "one metre plus" rule and the wearing of face coverings in England, before the fourth step (expected on 21 June).