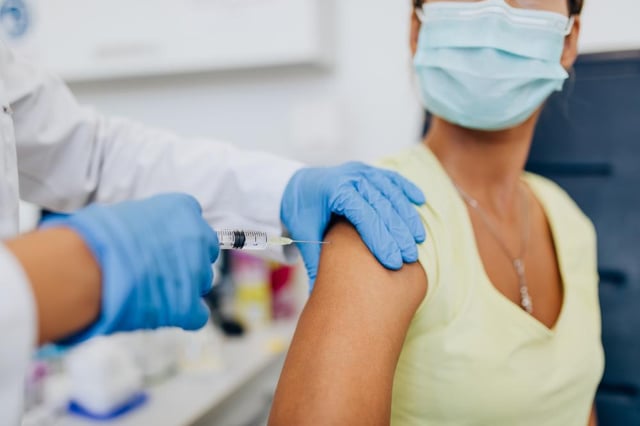 It is not uncommon to experience a range of side effects after the Covid jab (Shutterstock)
Since the Pfizer/BioNTech vaccine was first administered in December last year, over 9.6 million people in the UK have received their first dose, according to government figures.
As people receive the Covid jab, it is not uncommon for them to experience a range of side effects.
Here's everything you need to know about how you may feel after inoculation.
Why do you experience side effects?
As vaccines work by triggering your immune system to produce a reaction, it is possible you will experience side effects after receiving one of the coronavirus jabs.
According to the Vaccine Knowledge Group, which is in partnership with Oxford University, symptoms like a mild fever, muscle aches or headaches - otherwise known as "flu-like" symptoms - have been reported after patients have been immunised.
These symptoms generally last one to two days following vaccination.
Are they anything to worry about?
Side effects are very common when receiving any type of vaccine and are nothing to be concerned about.
The two coronavirus vaccines currently available have been extensively reviewed by the Medicines and Healthcare products Regulatory Agency in the UK (the MHRA) over several months.
Follow-up data has been collected from 23,000 people for the Oxford/AstraZeneca vaccine and 44,000 people for the Pfizer/BioNTech jab.
That means all the side effects and medical conditions that people in the clinical trials of the vaccines experienced have been thoroughly assessed.
NHS guidance says: "So far, thousands of people have been given a Covid-19 vaccine and reports of serious side effects, such as allergic reactions, have been very rare.
"No long-term complications have been reported."
What are the side effects for each vaccine?
Similar side effects have been reported for each of three approved vaccines:
The Oxford/AstraZeneca vaccine has been shown to be safe in trials, with only minor side effects observed.
This included injection-site pain, mild fever, muscle ache and headache, according to findings from the phase two safety trial which were published in The Lancet in November.
The Vaccine Knowledge Group states that the most common side effect associated with this jab is fatigue, with 70 per cent of patients experiencing this.
That is closely followed by arm pain at 67 per cent, and just over half of patients experienced chills afterwards.
The least common side effect was fever at 18 per cent.
These short-term side effects are common with many vaccines - and more serious, adverse effects have not been reported.
The side effects were also less common in adults aged 56 and older, compared to younger adults.
Advice for pregnant women to avoid being vaccinated has also been amended, with those who are at risk from Covid able to receive a jab.
And people with allergies can also receive the Oxford/AstraZeneca vaccine, unless they are allergic to any of the specific ingredients.
The Pfizer jab was the first to be rolled out in the UK, and many people across the country have now had their second dose.
Scientists found that this vaccine had no serious side effects after it was tested on 43,500 people.
Any side effects that were experienced by patients were "mild" and similar to those associated with the flu jab.
According to the Vaccine Knowledge Group, the most common side effect experienced after patients took this jab was arm pain, with 92 per cent of people feeling sore after their first dose.
Half of people had a headache, while 42 per cent experienced fatigue.
The least common side effects after taking this vaccine was both fever and joint pain.
Reactions to vaccines are not uncommon, and can happen with others like the annual flu jab.
Moderna's vaccine has been reported to cause a rash on some patient's arms after injection.
The side effect, known as "Covid arm", can appear around a week after being inoculated. However, doctors say it affects very few people.
Dr Esther Freeman, director of global health dermatology at Massachusetts General Hospital, told USA Today: "We want to reassure people that [Covid arm] is a known phenomenon.
"Having a big red splotch on your arm for a couple of days may not be fun but the reality is there's no need to panic and no reason not to get your second shot."
Information from the US Food and Drug Administration (FDA) states that fatigue, headaches and muscle pain are the most common side effects from Moderna's Covid-19 vaccine.
More than nine in 10 participants who received the jab felt pain at the injection site, almost seven in 10 felt fatigued and about six out of 10 had headaches or muscle pain, the FDA said.
People also experienced rarer symptoms, like intractable nausea or vomiting and facial swelling.
Notably, more people experienced these side effects after the second dose than after the first dose.
The data shows that people over 64, who are among the most vulnerable to coronavirus, tolerated this vaccine better than younger people.