Vaccine study shows early signs jag reduces transmission of Covid-19
Health secretary Jeane Freeman has described a new study by Public Health Scotland into the effect on transmission caused by a Covid-19 vaccine as "very encouraging".
The study, which looked at the rate of infection of coronavirus with healthcare workers both vaccinated and unvaccinated, indicated that vaccination offers some protection against transmission to household contacts.
It showed the rate of infection for those living with healthcare workers was 30 per cent lower when the worker has been vaccinated, mostly with a single dose.
This 30 per cent relative risk was an "underestimate of the 'true effect'" on transmission, the study said, due to the fact those living with healthcare workers can be infected by other people outside their household.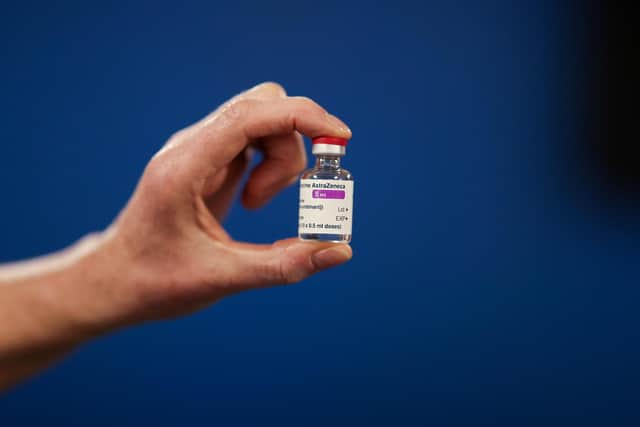 The research involved more than 300,000 people in total and ran between December and the start of March. The study compared cases of Covid-19 and hospitalisations due to coronavirus in household members of both vaccinated and unvaccinated health care workers.
Where healthcare workers had received a second dose of the vaccine at least two weeks before, their household members had a rate of Covid-19 that was at least 54 per cent lower than household members where healthcare workers had not been vaccinated.
Dr Diane Stockton, PHS lead for the Covid-19 Vaccination Surveillance Programme, said: "The results from this study as part of our vaccine effectiveness work are very encouraging because it suggests that the vaccine helps prevent people from passing on the virus to others – something that has been suspected, but hasn't previously been shown.
"Despite this good news, it is important to remember that infection prevention and control practices in healthcare settings remain of paramount importance, as do the mitigations to prevent spread in our daily lives. The risk of transmission did not go down to zero after the healthcare worker was vaccinated."
Dr David McAllister, from the University of Glasgow, said: "Our study has important implications for informing vaccination strategies. The JCVI in the United Kingdom recently commented on the lack of real-world evidence evaluating the role of vaccination programmes on transmission.
"We provide the first direct evidence that vaccinating individuals working in high-exposure settings reduces the risk to their close contacts – members of their households. Our work will also be of interest to modellers, as it can be used to inform their predictions about future rates of Covid-19 in the community."
Speaking at the Scottish Government's daily coronavirus briefing, Ms Freeman said the news was "encouraging".
She said: "Today's study adds to growing evidence that vaccination can also help reduce the transmission of the virus.
"It's obviously very encouraging data indeed."
National clinical director, Professor Jason Leitch, said: "The study itself is the beginnings of some really interesting data and it is important for people to realise that Scotland is leading the way on a lot of this research.
"It suggests that those in the homes of those vaccinated are not as at risk as those without a vaccinated individual.
"That is one of the first studies in the world that suggests transmission is being reduced."
A message from the Editor:
Thank you for reading this article. We're more reliant on your support than ever as the shift in consumer habits brought about by coronavirus impacts our advertisers.
If you haven't already, please consider supporting our trusted, fact-checked journalism by taking out a digital subscription.
Comments
 0 comments
Want to join the conversation? Please or to comment on this article.