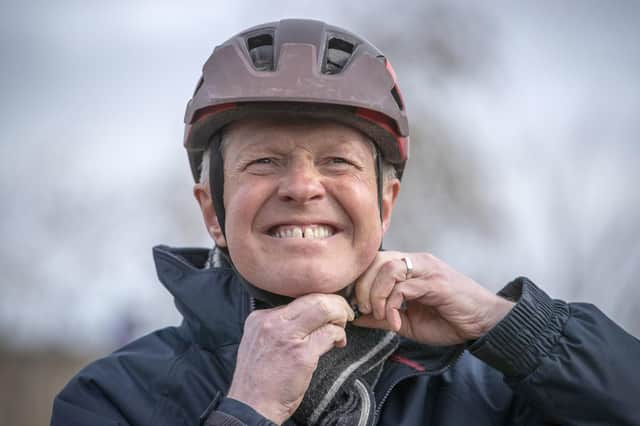 Willie Rennie during a visit to the Bridge 8 Hub alongside the Union Canal in Edinburgh
Speaking at a campaign stop in Edinburgh, the leader of the Scottish Liberal Democrats Willie Rennie said their introduction would be unfair for younger people and called on Nicola Sturgeon to rule out their introduction.
On Monday, Boris Johnson said there were "complicated ethical and practical issues" around the introduction of vaccination or Covid-19 immunity certificates.
According to an eight-page Downing Street paper, those who have tested positive for Covid-19 within the past 180 days would qualify for access to a venue or event requiring Covid certification, as well as those who have been vaccinated or who have a negative lateral flow or PCR test taken on the day or day before the event.
The Prime Minister also announced that test events in Wembley and at the Snooker World Championship in Sheffield would go ahead.
Criticising the move, Mr Rennie said there are "no shortcuts" to a return to normality and criticised the likely creation of an "almighty bureaucracy" for a limited benefit.
He said: "It would be unfair for millions of young people who have sacrificed so much in the last year to lose out and a major step for the government to insist on medical treatment before people can access every day services.
"The SNP tried to create a super ID database to share lots of private information between 120 public sector bodies from Quality Meat Scotland to the Royal Botanic Garden. So we are right to be wary of their plans for vaccine passports.
"This seems like an almighty bureaucracy that would need to be created, at considerable cost, for limited benefit for such a short time. The best way to restore our liberties is to suppress the virus with the voluntary use of the vaccine and measured restrictions. There are no shortcuts."
Calling for the First Minister to "listen to her own words" in Holyrood when she said there were no plans to introduce "immunity passports", Mr Rennie called for a suspension of any plans to introduce vaccine passports in Scotland.
The SNP has indicated support for international vaccine passports as a way to open up international travel, but Ms Sturgeon has repeatedly expressed concerns around the impact of domestic vaccine passports on equality and fairness.
The UK Liberal Democrat leader Ed Davey labelled Mr Johnson's plans "undercover ID cards".
He said: "With governments north and south of the border previously attracted to ID cards, we must be extra vigilant about this development.
"Liberal Democrats opposed ID cards because of the concern about government storing personal information on a super database which could be misused in future.
"Neither the UK or Scottish governments have ruled out using vaccine passports to limit access to public spaces, services and events.
"The best way to keep our country safe is suppress the community spread of the virus by vaccinating as many people as possible and finally delivering widespread asymptomatic testing so that new strains can be tracked and eliminated."
The SNP has been contacted for comment.
A message from the Editor:
Thank you for reading this article. We're more reliant on your support than ever as the shift in consumer habits brought about by coronavirus impacts our advertisers.
If you haven't already, please consider supporting our trusted, fact-checked journalism by taking out a digital subscription.