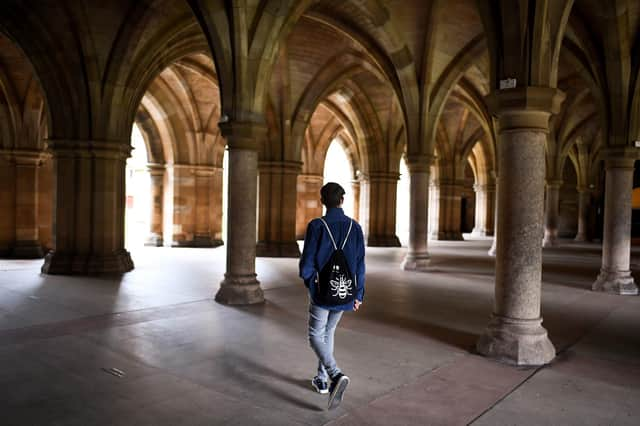 Glasgow University is one of the worst-hit so far in the UK, as at least 45 universities have confirmed coronavirus outbreaks - including 11 institutions in Scotland. (Photo by Jeff J Mitchell/Getty Images)
A growing number of UK universities have suffered serious coronavirus outbreaks and at least 50 have had confirmed cases.
There are at least 4000 university students and staff with confirmed cases of the virus, following a series of major outbreaks in the last few days.
Which universities have been worst hit?
The worst affected universities currently are in the north of England, although there are universities with positive cases confirmed in almost every region of the UK.
The University of Nottingham and the University of Sheffield are the latest to confirm major outbreaks, with more than 1000 cases between the two institutions.
And 850 students from Northumbria University and Newcastle University have been told to self-isolate after testing positive for the virus.
Both Manchester universities will move to virtual lessons for all students tomorrow (7 October), following major outbreaks there.
The University of Glasgow has seen the most confirmed cases so far in Scotland, at 172, with 600 students self-isolating.
Elsewhere in Scotland, at least 120 students have tested positive at Edinburgh Napier University, with at least five more student cases in the city, between Queen Margaret University and the University of Edinburgh.
After suffering another outbreak, the Parker House halls of residence in Dundee has seen 500 students put into quarantine from Abertay University and Dundee University, where there were 84 confirmed cases combined.
So far The University of Glasgow is the only university in Scotland to offer a financial support package to students affected, equal to a month's rent plus a £50 payment for food.
Are there likely to be more?
The true number of students and staff with the virus is undoubtedly much higher in reality, as a number of universities have confirmed that they have positive cases without releasing the exact number.
Public Health England has previously asked some universities not to release the number of cases.
Prior the the full details of the outbreak there being announced, a spokesperson for the University of Nottingham told Sky News that: "Regional Public Health England is currently asking us not to release institutional data for a couple of reasons - they are keen not to confuse their formal weekly data releases but they are also mindful of undermining the message that in the East Midlands, COVID-19 is affecting all demographics and so all demographics should have responsibility to protect health and follow the rules".
Which universities have got confirmed cases?
The universities with confirmed cases are:
- Aston University, Birmingham
- Birmingham City University
- De Montford University, Leicester
- Edinburgh Napier University
- Glasgow Caledonian University
- Leeds Beckett University
- Manchester Metropolitan University
- Oxford Brookes University
- Queen Margaret University, East Lothian
- Queen's University Belfast
- Robert Gordon University, Aberdeen
- Staffordshire University
- University of Edinburgh
- University of Gloucestershire
- University of Leicester
- University of Liverpool
- University of Nottingham
- University of Portsmouth
- University of South Wales
- University of Sunderland
- University of the West of England, Bristol
- University of Worcester
- University of St Andrews, Fife
- York St John University