Tourism leaders call for Edinburgh festivals reboot if lockdown is lifted
Tourism and business leaders in Edinburgh have called for scaled-backed cultural events to go ahead in the city if social distancing restrictions are eased by August - despite its long-running festivals being officially called off.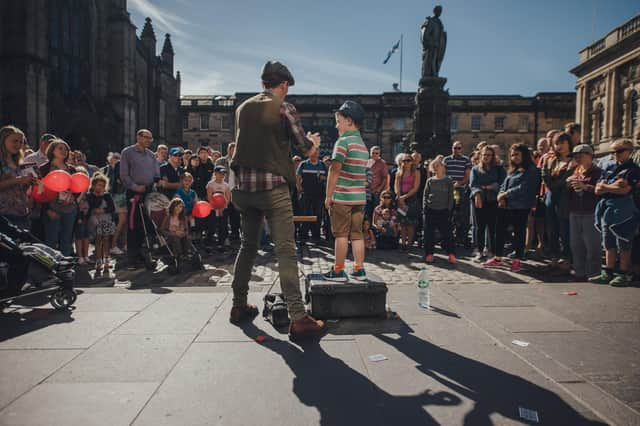 The Edinburgh Hotels Association and business group Essential Edinburgh have thrown their weight behind the idea of some shows going ahead to help fuel a revival for the city if it is deemed safe enough for hotels, bars and restaurants to reopen.
They want Edinburgh to start planning to ensure it can capitalise on "huge pent up demand for UK travel, inter-Scotland travel and for locals getting out and enjoying their city again."
Growing support for a possible revival of the city's world-renowned cultural offering has emerged days after a joint announcement from the International Festival, Fringe, Tattoo and the city's art and book festivals that they would not go ahead this year.
However the Fringe Society, which runs the official festival website and box office later admitted it "did not have the power to cancel the event" and that it would try to reboot its website and box office if restrictions are eased. Four of the biggest venue operators have vowed to help "rebuild" the festival if they can.
Both the Scottish Government and the city council have supported the joint cancellation announcement from the festivals after offering to maintain funding even if events did not go ahead this year.
However the Edinburgh Hotels Association said it was "vital" for a limited cultural programme to go ahead in the city "if restrictions allow".
Spokesman Russell Imrie added: "It's vital not just for business cash flow but also for the reputation and resilience of the city which needs to showcase itself again to the world.
"Our only hope for some sort of reasonable tourism business this summer has to be the domestic markets from England, wider Scotland and indeed locally.
"If restrictions are lifted there will be huge pent up demand for UK travel, inter-Scotland travel and for locals getting out and enjoying their city again.
"It is hoped that independent and local cultural organisations could react quickly to an easing of restrictions and offer some sort of limited and scaled back programme for a purely UK and local audience.
"Our hotels, bars, cafes, restaurants, retail, tourism operators and attractions will react quickly and be ready to open at short notice to service this UK demand."
Roddy Smith, chief executive of Essential Edinburgh, said: "We had all hoped that August may be the start of normality returning to the city and to help the business community kick start the recovery process.
"August is such a crucial month for these businesses so the loss is a hammer blow. Hopefully, if conditions allow we may see some smaller scale activity which would be great.
"The focus now must be on the city pulling together and planning for when we can resume business.
"Our city centre needs our residents and tourists to return as soon as it is safe to do so, and in the numbers that will help all the hotels, bars, restaurants and shops trade successfully again.
"We have an amazing world renowned offer in Edinburgh and we will thrive again very soon but we cannot just take this for granted.
"We need a city and industry wide strategy to market and promote our city to the world.
"Yes, we have a great history, amazing attractions and the highest quality of hotels and restaurants, but a number of other cities do as well and we will be in the most competitive of markets once people start travelling again."
Comments
 0 comments
Want to join the conversation? Please or to comment on this article.