New rules for police in England spell out that activities like 'stopping to eat lunch during a long walk' or 'driving to the countryside for a walk' as "likely to be reasonable," providing more time is spent walking than driving in the latter case.
But a Police Scotland spokesperson told The Scotsman today that they are not aware of any similar document being issued north of the border.
The spokesperson said: "This is advice which is being sent out to English police forces. We are not sharing this information with officers."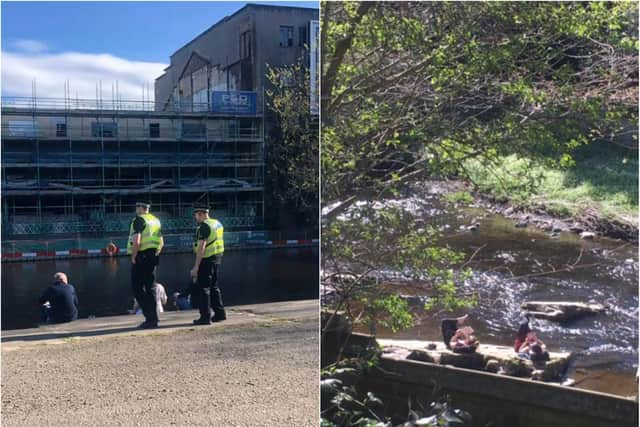 The new guidance for police in England has been produced by the National Police Chiefs' Council (NPCC) and College of Policing. It is there to help officers interpret and enforce the emergency restrictions that came into force three weeks ago, which have now been extended for a further three weeks.
Key differences – exercise
On exercise, the NPCC guidance classes driving to the countryside for a walk as "likely to be reasonable" if "far more time" is spent walking than driving. But it says that driving for a "prolonged period with only brief exercise" is "not likely to be reasonable." This would suggest that driving for an hour to a popular walking spot could be deemed acceptable.
The guidance in England also classes 'stopping to rest or to eat while on a long walk' as "likely to be reasonable."
However a short walk to a park bench, when the person remains seated there for a much longer period, has been clased as "not likely to be reasonable."
Police Scotland and the Scottish Government have issued clear guidance to say that people should not drive anywhere for exercise and that you should stay local.
When asked about rules on stopping and sitting to eat lunch, the Police Scotland spokesperson referred to advice from professor Jason Leitch, who said that only 30-60 minutes of exercise outside is allowed each day and that it should not be viewed as "recreational."
A Scottish Government spokesperson told The Scotsman previously that it "is vital" that people stay at home and only go out for essential reasons – including for up to one hour of outdoor exercise a day.
The spokesperson said: "We're sorry, but this is not for recreation or to pursue a hobby. Clearly, if someone needs to take a brief rest while exercising outside they are welcome to do so while ensuring the correct social distancing is maintained."
Staying with friends after arguments
The NPCC guidance lists 'moving to a friend's address for several days to allow a 'cooling off' period following arguments at home' as a likely to be reasonable excuse to leave home.
The Police Scotland spokesperson directed The Scotsman to the Scottish Government's advice on social distancing when asked about relevant guidance on the matter for police officers in Scotland. However, guidance as specific as this does not appear to be publicly available.
The Scottish Government guidance on social distancing says you must only go outside for food, health reasons or work, only if you can not work from home, and to take one form of exercise a day and maintain a two metre distance from other people when outside.
NHS Inform, which is Scotland's national health information service, gives advice to avoid gatherings with friends and family and keep in touch using remote technology such as phone, internet, and social media. It also says to use telephone or online services to contact your GP or other essential services.
The Scottish Government's Justice Secretary, Humza Yousaff, has stressed previously that the message to stay at home during the Covid-19 lockdown does not mean that domestic abuse victims should not seek urgent help, advice and support.
Other key points in the NPPC guidance are that buying food for several days, including "luxury items and alcohol", is deemed likely to be reasonable.
The guidance also says people are not allowed to buy paint and brushes "simply to redecorate a kitchen" but can purchase tools and supplies to repair a fence "damaged in recent bad weather". This is because regulations specify maintenance and upkeep but do not extend to renovation and improvements.
The guidance for English police forces also spells out that there is no requirement to be a key worker or essential worker in order to travel to work. It says anyone can travel to work if it's not reasonably possible to work from home. A request from an employer to attend work should be "sufficient" but police should not ask for any written proof of the need to go to work.