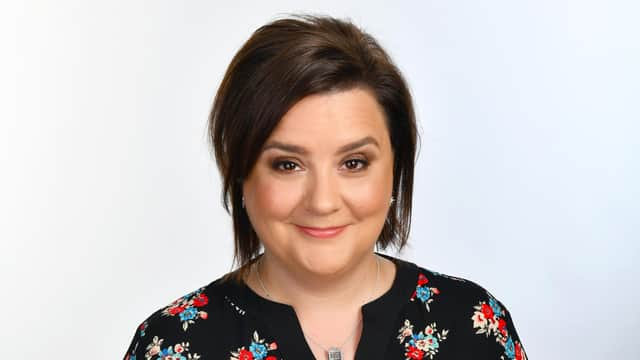 Susan Calman will host her new variety show from her back garden during the coronavirus lockdown.
The Glaswegian presenter and panelist on shows like The News Quiz and I'm Sorry I Haven't A Clue will introduce contributions filmed by comedians, actors and musicians in their own homes.
The six-part entertainment show, Socially Distant With Susan Calman, which will launch next month, is part of a new line-up of TV and radio programmes which will overhaul BBC Scotland's schedules over the next few weeks.
Others include a spin-off version of The People's News, the BBC Scotland show which featured video clips from ordinary members of the public giving their take on the events on news and current affairs.
The new incarnation, Corona Diaries, will see a series of families from around Scotland reliving their own lockdown diaries and showing how it has impact on healthcare and supermarket workers, farmers and delivery drivers.
A BBC Scotland spokeswoman said Socially Distant With Susan Calman would "keep the nation connected to Scotland's culture and connected to each other."
Calman added: "I'll be broadcasting from the bottom of my garden and through the wonder of modern technology bringing together an array of comedians, musicians and actors from across Scotland in a bid to cheer up the nation.
"It might be a little bit rough and ready at times, but I think we can agree that we all need a little bit of light relief at the moment."
Gavin Smith, comedy commissioner at BBC Scotland, said: "At a time of increasing distance and isolation, Susan's going to bring the people of Scotland together again and show that there's still laughs in lockdown.
"It's great that comedians, musicians and other creative talents will have the chance to 'gig' from their homes and with Susan warmly pulling it all together from her back garden it'll be an entertainment show like no other even if it rains."
Harry Bell, executive producer of Corona Diaries, said: "The lockdown has changed forever how we interact with our own families, friends and colleagues.
"Corona Diaries will reflect the innovation, humour and very different views on the news that are emerging.
"This is the chance to hear and see how ordinary people are reacting from their own living rooms to this extraordinary new world."