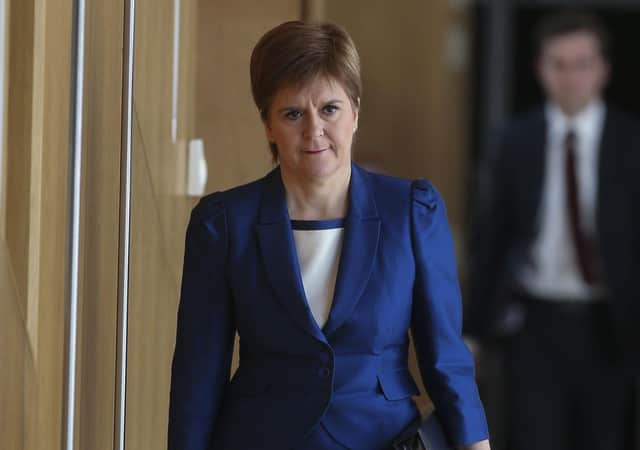 Scotland's First Minister Nicola Sturgeon arriving for First Minster's Questions. Picture: Fraser Bremner/Scottish Daily Mail/PA Wire
Scottish Conservative MSPs and Labour's shadow Scottish secretary Ian Murray said inquiries should be launched after the much-delayed dossier by the House of Commons Intelligence and Security Committee (ISC) said reports that Russia carried out "influence campaigns" around the independence referendum were "credible".
The report also cited "Russian state-owned international broadcasters such as RT and Sputnik" as tools of disinformation and malicious influence - raising new questions about former First Minister Alex Salmond's TV programme for RT.
The 2014 referendum is mentioned in just one passage of the report and in a further two footnotes, however it is being regarded as a key example of Russian meddling in UK domestic politics ahead of the EU referendum in 2016 and the past two general elections. As a result, the UK Government has been heavily criticised for failing to clamp down on potential foreign influence in British politics.
Former Scottish First Minister Alex Salmond at St Andrew's House in Edinburgh, with ex-Prime Minister David Cameron ahead of signing a deal on holding the 2014 Scottish independence referendum. They are pictured with Nicola Sturgeon and Michael Moore
The report states there was "credible open source commentary suggesting that Russia undertook influence campaigns in relation to the Scottish independence referendum in 2014", adding that it was "potentially the first post-Soviet Russian interference in a Western democratic process." It adds: "For example, it was widely reported shortly after the referendum that Russian election observers had suggested that there were irregularities in the conduct of the vote, and this position was widely pushed by Russian state media. We understand that HMG viewed this as being primarily aimed at discrediting the UK in the eyes of a domestic Russian audience."
Yesterday Labour committee member Kevan Jones said such evidence should have prompted investigations by the UK government. "All the evidence was there from the Scottish referendum. Short of having a large banner outside Downing Street, a billboard saying what was going on, what more did the Government need?"
Asked about the ISC report at the Scottish Government's daily coronavirus briefing yesterday, the First Minister accused the UK Government of "negligence" and said there was no room for "complacency" in terms of Russian influence.
She said: "Firstly, we should not be at any point complacent about the possibility of Russian interference in our democratic processes. Secondly, I don't think you can really draw any conclusions from the three lines or thereabouts that the report has on the Scottish independence referendum, but I would include that in my general remarks about not being complacent about Russian interference, although I would say that the Scottish independence movement and the values I and my party stand for I don't think could be further removed from the kind of values that Vladimir Putin and the Russian regime stand for."
She added: "The main message out of an initial reading of this report would be what I think could possibly be described as negligence on the part of the UK government in the face of potential Russian interference. I hope that this report leads to a much more rigorous approach and to the UK government taking these threats to our democratic processes much more seriously than they appear to have been doing so far."
Asked if she believed Russia had tried to interfere in the Scottish independence referendum, she said: "I only know what I read in the report, which is about three lines and a footnote, which seems to suggest that the only evidence the committee was able to source was open source – it wasn't UK intelligence or security information.
"So I don't know that. But what I'm saying is the UK government should be taking greater steps to find out, whether it's about that part of our democratic process or the Brexit vote where the report seems to be very explicit that they haven't even bothered to look into that."
Ms Sturgeon said that as intelligence and security is a reserved matter, it would be for the UK Government to undertake an investigation. She said: "If there's to be an inquiry into that - and I would have no objections, to the contrary - it is for the UK Government to do."
However Scottish Conservative constitution spokesperson, Murdo Fraser, said such were the SNP's reported links with Russian organisations that a full inquiry was required. Pointing to Alex Salmond's RT chat show, which has seen regular appearances from SNP figures such as former MP, Tasmina Ahmed-Sheikh, current MP Kenny MacAskill and MSP Alex Neill, he said: "This report suggests the SNP has questions to answer in relation to Russian interference. It has to explain what it knew about this issue and when.
"Given how Scotland and the independence referendum is at the centre of these allegations, it's essential the Scottish Government orders an inquiry on the matter. People will be very suspicious that the Yes campaign's most dominant figure ended up on the Russian payroll after losing the referendum.
"And over many years SNP figures have been more than happy to indulge questionable Russian media operations. It's clear much work is to be done by both the Scottish and UK governments to ensure future interference is stamped out."
Labour's Shadow Scottish Secretary, Ian Murray said the report "deeply alarming" and showed Russian interference "started at the time of the independence referendum". He added: "It's not surprising that Putin's regime will seek to capitalise on anything which weakens the UK.
"The UK Government must now take steps to ensure we protect our democracy, and the Scottish Government must be transparent about what it knew and what measures it will take to protect the integrity of next year's Holyrood election. We need a full inquiry in Scotland to ensure our democracy isn't compromised."