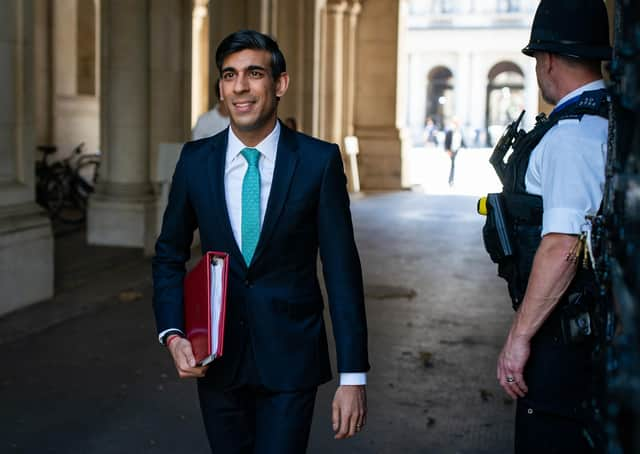 Chancellor of the Exchequer Rishi Sunak. Picture: Aaron Chown/PA Wire
The Chancellor said his summer statement spending commitments would mean Scotland had received a total of £4.6 billion from Westminster during the pandemic, and that the health crisis had "highlighted the special bond which holds our country together".
The Chancellor said the furlough scheme and other economic interventions had "significantly protected people's incomes, with the least well off in society supported the most", and added: "Millions of people in Scotland, Wales and Northern Ireland have been protected by the UK government's economic interventions, and they will be supported by today's plan for jobs. No nationalist can ignore the undeniable truth: this help has only been possible because we are a United Kingdom."
However his announcements were criticised by Scottish finance secretary Kate Forbes who said the figures for Scotland were "disappointing, underwhelming and fall short of the scale required to reboot the economy".
She said: "We called for an £80bn stimulus package to build a strong, green and inclusive economic recovery and while there are elements in this announcement to be welcomed, in particular the measures on VAT for tourism and hospitality, overall this package is a huge opportunity missed. It falls well short of delivering what is needed to boost the economy and protect jobs.
"There is no new capital spend, no extension to the furlough scheme for hard-hit sectors and no further support for households in financial difficulty. A half price meal out does not help those struggling to put food on the table.
"Many of the initiatives are short-lived and do not provide long-term certainty. Instead they will simply push the problems back to the end of the year when we will also have to deal with the end of the transition period with the EU.
"Despite announcing new funding measures worth up to £30bn today, most of it bypasses devolution."
SNP MPs also criticised the Chancellor for failing to include anti-poverty measures such as a £20 per week increase in the child element of Universal Credit and tax credits and for an absence of targeted measures to support the oil and gas sector.
The party's Westminster leader Ian Blackford MP said the government was putting people's "jobs and livelihoods on the line" by cutting off the job retention scheme and self-employment income support scheme too soon and was leaving the Scottish Parliament to tackle "the unprecedented economic crisis with one hand tied behind its back" by withholding financial powers.
He added: "While there were announcements we welcomed, the Chancellor's package lacked ambition by failing to deliver the scale of funding needed for an investment-led recovery. It didn't come close to meeting the £80bn of new money proposed by the Scottish Government or the four per cent of GDP investment that Germany has delivered."
Mr Sunak said his series of measures was a "Plan for Jobs", and reducing VAT on hospitality and entertainment from 20 to 5 per cent, would boost Scotland's tourism sector.
"Since this crisis started, our support for Scotland has protected more than 620,000 jobs, thousands of businesses and paid £425m to self-employed people," he said. "I've set out our plan to protect, create and support jobs across Scotland – to level up opportunity, safely reopen our economy and strengthen the Union.
"With a massive funding boost for Jobcentre Plus, doubling the number of work coaches, more people will now benefit from personalised and tailored job support. We're investing £800m through the Barnett formula, giving Scotland the funds to create green news jobs. And we're protecting the thousands of existing jobs in the hospitality sector with a cut to VAT and the Eat Out to Help Out scheme."
His Cabinet colleague, Scottish Secretary Alister Jack backed the announcement and said: "The Chancellor has set out a fantastic package. The devolved administration now need to play its part and show they are serious about Scotland's economic recovery."
However Scottish Labour leader Richard Leonard also said the statement fell "way short of the radical investment we need in the face of a major economic crisis and spiralling unemployment."
He added: "Scottish Labour has been calling for a quality Jobs Guarantee Scheme, but we need good jobs and jobs for good – not low-paid, part-time employment for just six months, delivered through a scheme which cuts off everyone over the age of 24. While we welcome the stimulus in the tourism and hospitality sectors, it is crucial that these funds reach small businesses, workers and consumers."