It was the news the world's been waiting for - the chink of light emerging at the end of a long and dark tunnel.
A Covid-19 vaccine which has shown to produce an immune response with 90% efficacy from a trial involving 43,500 people.
As word of the vaccine manufactured by pharmaceutical company Pfizer spread across the globe, the airwaves lit up by one simple word repeated three times over.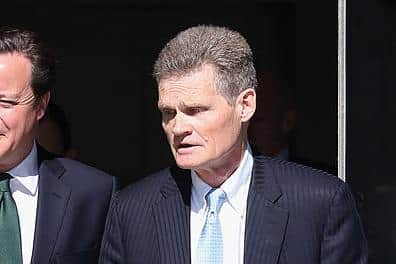 "Yes, yes, yes" was Sir John Bell's response to being asked if people could look forward to a return to normal life by spring 2021.
Speaking on BBC Radio 4's The World at One programme, Sir John, who advises the government, added: "I am probably the first guy to say that but I will say that with some confidence."
The vaccine trials were conducted across six different countries - the US, Germany, Brazil, Argentina, South Africa and Turkey - and showed no concerns over safety.
A volume of 50 million doses could be supplied before the end of the year and around 1.3 billion by the end of 2021, the companies stated. Each person needs two doses.
Or, to give him his proper title, professor Sir John Bell GBE FMedSci HonFREng FRS.
Sir John is a member of SAGE (Scientific Advisory Group for Emergencies) and sits on the government's vaccine task force that has negotiated the purchase of a handful of proposed vaccines to combat coronavirus.
He is also a regius professor of medicine at the University of Oxford, chairman of office for the Strategic Coordination of Health Research and served as president of the Academy of Medical Sciences from 2006 to 2011.
Sir John attended Oxford where he trained in medicine before he undertook postgraduate training in London and at Stanford University.
"At Stanford he developed research interests in the area of immunology and genetics with a particular focus on characterising the molecular events associated with susceptibility to autoimmune diseases," his biography on the academy's website reads.
An expert in immunology, Sir John has been heavily involved in numerous research programmes and sits on a wide range of advisory panels for public and private sector bodies in many different countries, including the UK.
He is also the founder of the Wellcome Trust Centre for Human Genetics, a leading international centre for complex trait common disease genetics, and is chairman of the Bill and Melinda Gates Foundation Global Health Advisory Board.
For his services to medical science, he became a Fellow of the Royal Society and made a Knight Bachelor in 2008.
What is a Regius Professor?
The chair of regius professor of medicine at the University of Oxford was founded by Henry VIII of England in 1546, who also established regius professorships in divinity, civil law, Hebrew and Greek at the university. Sir John was appointed a regius professor in 2002 and is the latest in a long line to hold the same title at the university.
Will life return to normal in spring?
Sir John has been a familiar face and voice of reason for many during the coronavirus pandemic, often sought out for his medical expertise.
And he hit the headlines this week in an interview with BBC Radio 4's The World at One programme, as he gave hope of a return to normal life next spring following the emergence of a Covid-19 vaccine.
Sir John said: "In order to see if a vaccine works before you know it works you measure your immune response to the vaccine, so you measure how many antibodies you get, how good are those antibodies at killing virus, what are your t-cell responses and all those sorts of things.
"Those are sort of parameters that you can judge whether you're getting a good result and when you look at the immunological responses that you get from the Oxford AstraZeneca vaccine and the ones from the Pfizer BioNTech vaccine and even the Moderna vaccine, they all look about the same.
"So I'm optimistic that that probably reflects similar levels of efficacy."
Asked if he thinks there could be more than one vaccine rolled out in the UK this year, Sir John replied: "Yeah, or early in the New Year. It's very close." And added: "It's very important because there's no other obvious way to get on top of this thing, frankly."
And what about hopes of life returning to normal by spring?
"Yes, yes, yes," he stated. "I am probably the first guy to say that but I will say that with some confidence."