Shoppers must wear face coverings in Scotland from Friday next week
Face coverings will be mandatory in all shops from next Friday after the latest round of measures announced by Nicola Sturgeon to ease Scotland's coronavirus lockdown.
At her daily Covid-19 briefing yesterday, the First Minister also said the two-metre social distancing rule can be reduced in the hospitality and retail sectors and on public transport from the same date.
Pubs, restaurants and shops will be allowed to adhere to a one-metre rule instead, as long as mitigation measures such as Perspex screens are in place.
The Scottish Government has also lifted guidance advising people not to travel more than five miles for leisure from today, although this will not apply to parts of Dumfries and Galloway where there is a cluster of coronavirus cases. Also from today, ­children under 12 will not have to physically distance outdoors, allowing them to hug grandparents for the first time since lockdown.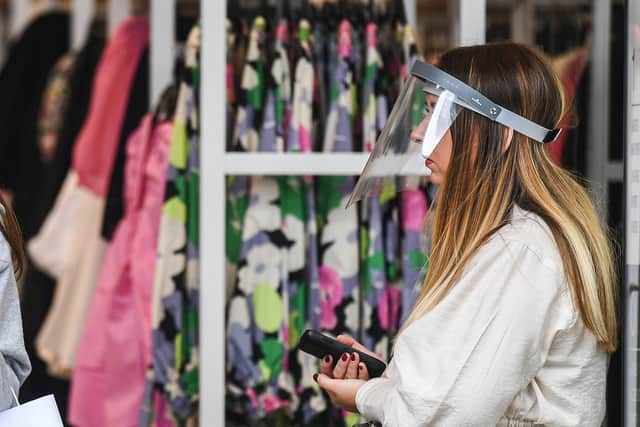 The shop workers union Usdaw raised concerns over the enforcement of the new requirement to wear face coverings in shops.
But Ms Sturgeon said it would be "unreasonable and unfair" to expect shopworkers to enforce the law and that police would do so "sensitively and proportionately".
She said: "The regulations that will be published are likely to follow very closely the situation on public transport so in terms of enforcement that would involve for people not complying, potentially the imposition of a fixed penalty notice.
"It is not something I think is fair or reasonable to expect workers in shops to enforce so police would be able in certain circumstances to impose fixed penalty notices but the police will enforce these things very proportionately and sensitively. I recognise very readily that this is not the easiest thing for the police to enforce either which is why all of us can help by doing this voluntarily even though it is going to be backed up by law."
From 15 July, indoor pubs, restaurants and hairdressers will be allowed to reopen. The First Minister also confirmed outdoor hospitality - such as pavement cafes and beer gardens - can open from Monday, and self-contained holiday accommodation, such as cottages and lodges, can reopen from today.
Ms Sturgeon said the science on physical distancing has not changed and there is an increased risk of somewhere between two and ten-fold in reducing the measure to one metre.
But she said that as the number of infected individuals falls, there is less chance of coming into contact with someone who has the virus so absolute risk is lower.
She added that the Scottish Government recognises the two-metre rule has benefits, but it also has "serious economic implications" which can impact on people's health.
She said: "For those reasons when we enter stage three of the route map, which I hope will be the end of next week, we will allow exemptions for specific sectors where agreed mitigations must be put in place."
These mitigations in the hospitality sector include "no standing - all customers seated" and face coverings being worn by staff.
There would also be "reduced noise measures eg no background music, to reduce need for customers to shout".
Screens could be placed between seating areas, while there would have to be "clear systems for safe ordering and payments". The government also recommends keeping seating on public transport back-to-back or face-to-back with enhanced ventilation.
Ms Sturgeon said: "The guidance will be different for different sectors, clearly the mitigations for a restaurant or a bar will be different to those for a hairdresser.
"For illustrative purposes and to allow businesses to start to plan, we're publishing today the kinds of mitigations that may be required in each sector.
"However in general terms, these may include improved ventilation, Perspex screens, regulation of customer flow and seating plans that reduce transmission risk. For hospitality and possibly other sectors, mitigation will also include the collection of names and addresses of customers to help with contact tracing."
Scottish Conservative leader Jackson Carlaw said yesterday: "This is a reasonable approach which will maintain public health while easing the restrictions that would have made it impossible for many hospitality and retail businesses to operate. While no-one wants to see the need for social distancing to last longer than necessary, we believe the measures announced today strike a proportionate balance."
Comments
 0 comments
Want to join the conversation? Please or to comment on this article.