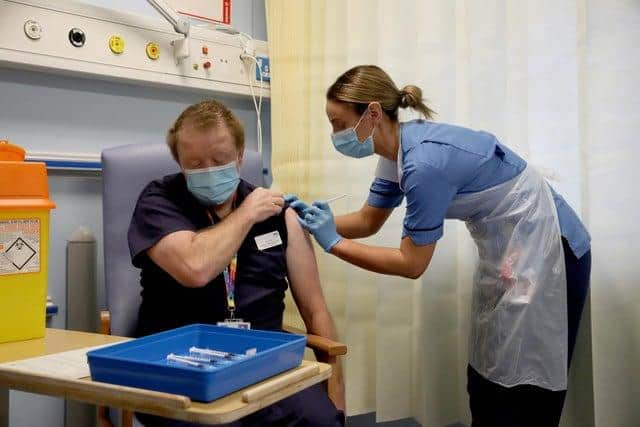 Just 6.9 per cent of Scotland's adult population has received their first dose compared with 9 per cent of England's
The British Medical Association has reportedly asked Professor Alison Strath, the Scottish Government's interim chief pharmaceutical officer, to consider allowing GPs to order the supplies they need to vaccinate their patients 'directly'.
As it currently stands, GPs must place their orders with their local health boards, but Dr Andrew Buist, chair of the BMA's Scottish GP's committee said that sometimes doses did not arrive and some practices were yet to receive any of their requested vaccines – even though the First Minister had promised all over-80s would be vaccinated by the first week of February.
He added that giving the responsibility to GPs would "streamline" the process as Nicola Sturgeon aims to "ramp up" the pace of delivery.
The report in the Telegraph said it is understood that around 600,000 doses have so far arrived in Scotland with the remainder of the country's 717,000 allocation in storage in England.
Dr Lewis Morrison, chair of BMA Scotland, has also said: "There must be an ongoing and unrelenting drive to get vaccines rolled out to the population. We have made clear there have been issues with supply, and as we move forward, we need continued focus on addressing them so GPs can deliver vaccinations to their local populations."
However at the Scottish Government's daily coronavirus briefing, Deputy First Minister John Swinney denied there was any "bottleneck" in getting the vaccine to GPs.
"We're essentially drawing down the vaccine, on the basis of demand from within the health service to meet the particular groupings that are to be vaccinated, as a priority," he said. "Not all of the supplies that have been allocated to Scotland are yet available to Scotland. As we've set out on a number of occasions...quite a large proportion of the supplies that have been allocated to us, will be available to us towards the end of January."
National Clinical Director Jason Leitch added: "The reality is that we simply do not have as much vaccine, as we have asthma inhalers, or even flu vaccine during the flu vaccination period, so you have to have a level of control to that distribution, otherwise it would be uneven throughout the country.
He said that each country in the UK had a layer of management to channel vaccine supplies, and added: "We've used health boards, England has used what they call Clinical Commissioning Groups – large networks of GPs. But let's be clear, we're all headed to the same place.
"But if the BMA have ideas about how to improve that and make it better, of course we will listen to them – they are on the committees that help us make these choices."
A total of 309,000 people have received their first dose after an increase of 25,327 on Tuesday, though only 6.9 per cent of Scotland's adult population has received their first dose compared with nine per cent in England. The Scottish Government has said this has been the result of its focus on care homes rather than community vaccination, which means delivering the vaccine is more "time consuming and labour intensive."
A message from the Editor:
Thank you for reading this article. We're more reliant on your support than ever as the shift in consumer habits brought about by coronavirus impacts our advertisers.
If you haven't already, please consider supporting our trusted, fact-checked journalism by taking out a digital subscription.