Scottish Government reveals day-by-day account and details of Edinburgh Nike conference COVID-19 outbreak
The Scottish Government has issued a day-by-day account of what happened during the Edinburgh Nike conference following reports of it being "Ground Zero" for COVID-19.
The statement comes after First Minister Nicola Sturgeon defended the handling of the conference's outbreak.
She insisted that "all appropriate steps were taken" and any suggestion of a cover-up was "complete and utter nonsense".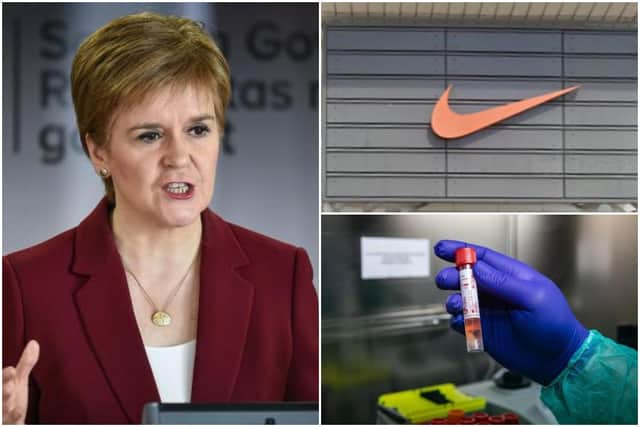 Here is the Scottish Government's statement in full: "On Monday 2 March, Health Protection Scotland (HPS) were alerted by international public health authorities regarding an individual who had tested positive for COVID-19 following their attendance at a conference for over 70 delegates in Edinburgh at the end of February.
"The individual was not based in the UK and had tested positive on returning home, having previously been in an area at high risk of COVID-19.
"HPS set up an Incident Management Team (IMT), with representatives from Scottish NHS boards and national and international public health agencies, to ensure all attendees were contacted and given appropriate public health advice.
"This included advice regarding self-isolation and contact tracing of any attendee showing symptoms of COVID-19.
"On Tuesday 3 March HPS were notified that an individual in Scotland connected to that event had tested positive. Scottish Government ministers were also informed on the evening of 3 March.
"On Wednesday 4 March, this case was confirmed in a Scottish Government press release, in line with standard reporting procedures for confirmed COVID-19 cases at the time.
"All individuals who had attended the conference were contact traced. The close contacts of cases in Scotland were also traced, as confirmed in the news release issued on 4 March.
"All of the eight cases in Scotland associated with the event have been included in the daily updates of positive case numbers and their contacts were traced. Only one case was identified in Lothian.
"NHS Lothian and Edinburgh City Council worked closely with the conference venue to ensure that all public health issues were addressed including advice for close contacts of delegates and infection prevention and control considerations."
Comments
 0 comments
Want to join the conversation? Please or to comment on this article.